Addison Rae is officially TikTok's top earner, but as Josh Smith gets the first exclusive cover interview with the social media sensation, he meets the very real woman behind the billions of likes and millions of followers.
There are social media phenomena and then there is Addison Rae. In just 18 months since joining TikTok, the American 20-year-old has amassed 4.9 billion likes on TikTok (to put that in perspective, we're talking 3.5 times the entire population of China, FYI) and 76 million followers through her addictive array of dance routines, lip syncs and beauty videos.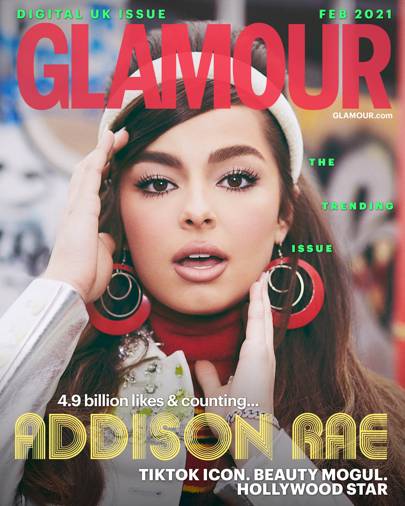 She has since been named TikTok's highest earner by Forbes, with an estimated fortune of $5 million, largely thanks to deals with brands ranging from American Eagle to Reebok. That's before you even take into account Addison's own cosmetics line ITEM Beauty, which launched in August 2020 selling exclusively online, or the fact that she has also just wrapped her first feature film He's All That. Addison is taking the lead in the reboot of noughties rom-com She's All That – opposite Cobra Kai's Tanner Buchanan and featuring a cameo from her BFF, Kourtney Kardashian (but more on that later).
All of this is made even more incredible when you realise that Addison only joined the fledgling social media app in August 2019, after her career as a competitive dancer stalled. Since the age of six, Addison had been competing in dance competitions across the USA. She grew up in Lafayette, Louisiana with her parents Monty, and Sheri, a former makeup artist and two younger brothers Lucas and Enzo, and was on course to pursue a dance career when a 'failure' forced her to change course.
"In my senior year I was trying out for the college dance team, and I ended up not making it," she reminisces. "I was like, 'Oh my gosh. How am I going to continue entertaining and performing without making the team?' I thought I had to give up on all my dreams, but about four to five months later I started social media and TikTok. All of a sudden – out of nowhere – I was posting all the time and getting likes, views and followers. Social media offered me a really awesome roadway to take. Sometimes the road you didn't think you were going to take is the one that you do, and you're glad that you did."
Her success encouraged her to drop out of Louisiana State University where she was studying broadcast journalism, and swapped her student digs for TikTok's Hype House in LA. The Spanish-style mansion – complete with a gigantic pool and big enough to house 19 creators – was also home to fellow mega-creators, Charli and Dixie D'Amelio and Bryce Hall (now Addison's boyfriend). If you are not familiar, think of it as The Mickey Mouse Club for Gen-Z talent.
Today however, just like the rest of us Addison is in lockdown, now living in an apartment in LA, which it looks as if she's only just moved in. There are boxes scattered across the bare-walled, high-ceilinged white living room; the only decoration is an indoor palm. But soon after Zooming into her world, I learn why this woman, all sunshine and smiles, has captured the hearts and minds of Generation Z and beyond. Addison, wearing an oversized black hoodie, her brunette hair relaxed and tousled, is more Zen than her TikTok persona suggests, and it's just like chatting to any regular 20 year old.
WATCH: Addison Rae opens up about working on her mental health, therapy & success
But unlike most twenty-something women, she has reached such high levels of success so quickly, she's had to deal with an onslaught of trolling that sadly seems to come with it. "I've dealt a lot with online hate and social media drama, with people that are very opinionated and don't want people to be happy," Addison reveals, before looking for reason behind the hate.
"People see people's successes sometimes and wish it was them, which is totally understandable. I've even been there in my life too, where I'm like, 'I wish I had this or I wish I had what she had.' That brings you envy sometimes and I would bring that anger out onto them, which has never been a fulfilling thing. I've realised you have to be happy for people."
"When I look at negative comments I can't let it get to me that much and I think, 'That doesn't define me, and they don't really truly know me in my heart.' There's going to be people that don't like you and that want to tear you down, but you have to love yourself for who you are."
What would be a triggering comment for her, I ask? "A lot of it has to do with body image," Addison sighs. "It's a really hard thing to deal with when you're a girl, especially going through your teens. I am 20 and my body is constantly changing, but people have this high standard around body image and say, 'Oh, you have to look like this to look great or to look hot or to be cool or to be pretty.' For me, a lot of people have said, 'Oh I love how comfortable she is and she doesn't look like the beauty standard.' It's a backhanded compliment sometimes because people will be like, 'I'm so glad she's confident that she doesn't look perfect.' It hurts sometimes when people say that, because I think everyone's perfect, so why is there some standard of 'this body is the ideal body'? I have thought a lot in the past year that it doesn't really define me and I am learning to love my body and who I am, for what I am."
She adds: "There's this one quote that I love: 'comparison is the thief of joy.' That's so true because when you start comparing yourself to someone, you're just asking to be upset because you're comparing yourself to something that you will never be, because you're only you," she smiles.
Addison wears Coat, Lanvin; dress, Dolce & Gabbana; earrings, MetrixJewelry; ring, Rainbow Unicorn Birthday Surprise
Comparison culture has sadly been affecting Addison since her dancing days. "Growing up as a dancer there were always comparisons," Addison adds, "and people saying, 'If you're this age, you should be at this level." Or, 'If you're on this team, you should be at this ranking.' But everyone is going through their lives at different stages, and no one is on the exact same path, ever. I have learnt to find self-validation in that you can only be the best that you can be."
Comparison traps are the worst, I agree, knowing I have personally lost hours of my life comparing my body to other men on Instagram. "A hundred percent!" Addison screams. "I used to ask myself, 'Why doesn't my body look like that? Or why isn't my hair that way? Or why is my face this way?' Or even feature-wise, sometimes I would just really look at myself and pick myself apart for no reason. There is so much going on in the world today, adding self-esteem onto that is really tough. If you can't mentally, emotionally or physically love who you are it becomes really difficult to even be happy. I know I've not been eating the best during quarantine or maybe not working out as much and watching a lot of TV, but we need to give ourselves grace." We can all relate to that, I tell her, putting down my chocolate biscuit while writing this.
Aside from taking the time to make herself feel good through exercise, caring for her skin, spending "real time with people" away from her phone and "filling my feed with things that can help," Addison has been attending therapy to help her grapple with her life-changing 18 months. "I started seeing a therapist, which was really helpful just to not feel so down about myself," she shares. "Self-worth is a big thing that I've been working on the past few months because it's definitely a real struggle, and it does affect you in your daily life, not having high self-worth. Therapy is a great way to work on that and it's an outlet to speak on things that are bothering you internally. Just being able to have someone to talk to has been a big thing for me and understanding that if you let people understand you a little more, then they will."
What is the gamechanging advice she has learned in therapy, I wonder? "Not letting your past define your future. Not falling into the same things that you have seen or known before that you know are not right, and not letting that dictate what you're going to do in your life," Addison replies. "And, directing your own path and making your life what you want it to be. You're making your destiny."
Leaning on her TikTok sisterhood, including Charli and Dixie D'Amelio – who regularly appear in her TikTok videos – and, of course, her pal Kourtney Kardashian (the pair met after Kourtney's son Mason became one of many Addison superfans), has also helped Addison to deal with the spotlight. "Having a support system over the internet or outside of it is equally important. Luckily, I have a great group of friends to really be there for me, understand what I'm going through and where I am. Finding that core group of friends is key to keeping myself happy," she says.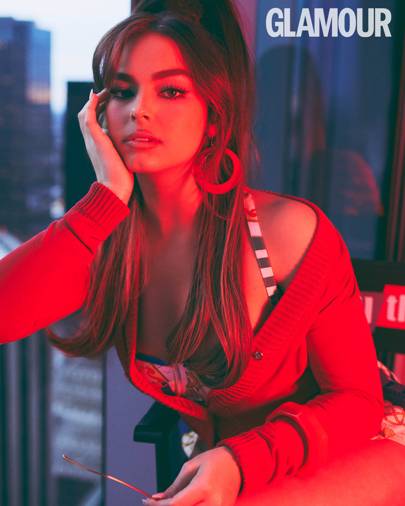 Given Kourtney has intentionally and unintentionally shared practically every aspect of her life with the world's Kardashian-thirsty audience, Addison has sought her advice on fame. "It's really inspiring to see people that are so happy in their lives and are so put together after everything they've been through," Addison reveals. "That's why I look up to Kourtney a lot and her entire family – throughout everything you can lean back on your family and friends to really have that emotional and mental support. It really pulls you through at the end. Something that she told me was, 'Make sure you're always enjoying what you're doing because this is the life you're living. Make sure it's something that you're proud of and you're continuing to do the things you love.'"
Having "difficult and honest conversations" with her parents, Sheri and Monty – both now influencers in their own right with 1.2 million and 355,000 Instagram followers respectively – has also helped Addison. These conversations now play out in her podcast with her mother Mama Knows Best, where the pair discuss adulting. "I used to think I had to conform to every beauty standard," Addisons tells me, before revealing a comedic take on their deep conversations. "My mom always told me don't compare yourself to them because they're always going to be evolving. My mom used to have thicker eyebrows, but she tweezed them all away because she was like, 'In the '90s, that was the coolest thing to have the small eyebrows – wow I just wish I had left my eyebrows normal!'"
Having been through her own struggles beauty standards, it's no wonder Addison wanted to sprinkle her trademark form of empowerment through her own clean, vegan beauty line, ITEM Beauty. With cute packaging and snappy names, the range features everything from lip gloss (Lip Quip) to brow pencils (Brow Chow), targeted at the beauty-hungry Gen-Z audience, with an affordable price tag to match. And from the offset, Addison was clear she wanted to be her own breed of beauty mogul: one who campaigns for change.
"I started seeing a therapist, which was really helpful just to not feel so down about myself… Self-worth is a big thing that I've been working on the past few months because it's definitely a real struggle, and it does affect you in your daily life."
Before reaching beauty boss status, however, there has been the odd ridiculous thing Addison has done in the name of beauty. "I was very obsessed with dimples and loved the way they looked on people," she laughs. "I looked up a YouTube video on how to get dimples, and I would literally" – Addison pauses to pick up a whisk from a discarded box and press the handle into her cheek – "You would take a pin, I was getting pencils, pens and markers, and then spin it in your dimple. I was like, 'I need it! It's the prettiest thing ever! Dimples are the best in the world!' I remember my cousin and I were in our rooms trying to give ourselves dimples, because we were so in love with it."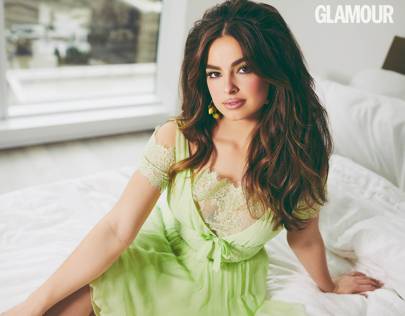 Despite making it as a Gen-Z icon and successful entrepreneur at just 20 years old, Addison says her biggest 'pinch yourself' moment came in summer last year when she was cast in He's All That. "It's been a dream of mine forever to be an actress," she says. "To be really called one now, is just really insane. Growing up, I was always in acting classes and watching movies and pretending I was the character." As she speaks, she just happens to be sitting proudly in the He's All That branded director's chair that she took home after wrapping filming in January.
Does she worry about crossing over into a new realm and the dreaded media criticism often directed at women who branch out from what they're known for? "The reaction is a little scary sometimes because people don't really know what I did or aspired to do before I started social media," Addison tells me. "People base anything I do off, 'Oh, she started on social media,' but without knowing my background or knowing I've always been in acting classes."
Perhaps the most telling moment about who Addison Rae actually is, comes when I ask her when she's been the most proud of herself. And it has nothing to do with stats, followers or even landing a Hollywood movie. "Just staying mentally healthy has been a really big accomplishment for me," she replies after some thought.
"Going through the changes of life, really staying grounded, and remembering where I'm from. There's so many times that I've been like, 'This is a lot, maybe it's mentally challenging,' and then wanting to give up. But then I remember that I got where I am today, and that I should take every opportunity I can to just accomplish everything that I dreamed of." That is exactly the secret behind Addison's meteoric rise: she is paving her own path as a self-made woman.