If you've recently binged-watched the first two series of Netflix's Sex Education and eagerly awaiting season three, the good news is that it is COMING, you just need to be a bit more patient. According to the streaming giant, production began in September 2020 – five months later than planned – which saw the cast and crew set up a filming bubble in Wales. And we're set to see season 3 drop later this year.
Here's why we are so obsessed with TV show; there's loads of sex (of course, so many types), budding teenage romances and Gillian Anderson as the smokin' sex therapist at her son's school. Plus, the locations are all-kinds of dreamy.
Speaking of which, it's hard not to soak up some of those epic backdrops of rolling hills in the series (anywhere that isn't our own four walls right now feels inspiring.) Most of the episodes were filmed around the picturesque South Wales. For the first season of Sex Education, filming took place in the Wye Valley in England and at Welsh hotspots including Llandogo, Tintern, and Penarth. Season two saw a return to most of those places with a few new additions.
With that in mind we've pulled together some of those epic real-life locations from Sex Education that you're bound to have spotted throughout series one and two.
Moordale School
Nope, the school in Sex Education looks nothing like our school either. In real life, Moordale School isn't actually a school, it was a campus for 4,500 students who attended the University of South Wales in Caerleon but closed in 2016. The early 20th-century building, with its focal clock tower, was the perfect location for the American high school vibe that the show's creators were going for.
The school hall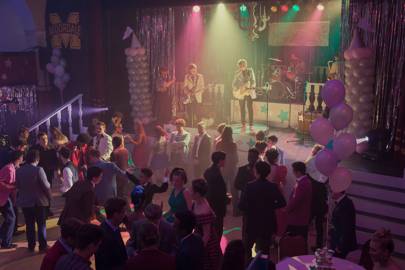 Not all the scenes at Moordale School were filmed at the disused USW. In fact, the school gym and hall scenes used in the assemblies and school discos were all filmed at The Paget Rooms in Penarth. The location is a Grade II-listed theatre built in the early 20th-century which in real life, serves at the town's public hall hosting everything from local group meetings to concerts and weddings
Jean and Otis Milburn's house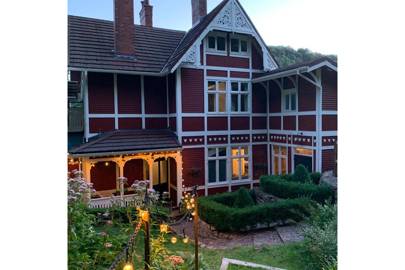 Oh, this dreamy Scandi-style red-and-white house where Otis (Asa Butterfield) and his mum Jean (Gillian Anderson) live is perched in an idyllic spot in the Forest of Dean, which borders Wales and Gloucestershire. In reality, the house, called "The Chalet" used to be a B&B but is currently closed to the public. Shots of the house are often accompanied by images of a village called Symonds Yat, a stunning spot situated in the Wye Valley with the River Rye running through it.
Maeve's caravan park
A Tweet by the The Forest of Dean and Wye Valley revealed that the caravan park used in Sex Education was filmed at Sterrett's Caravan Park which is in Symonds Yat. We assume that probably includes Maeve's (Emma Mackey) caravan too.
Aimee's house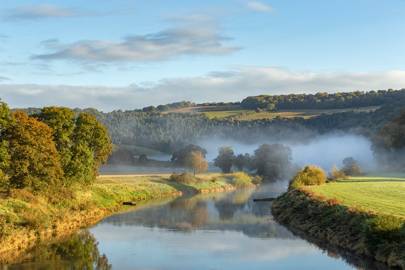 Anyone else find themselves lusting over Aimee's (Aimée Lou Wood) parent's house? You might remember it from the house party she throws quite early on in the series. The filming location is a property called Bigsweir House, Grade II-listed building that sits overlooking the River Wye. It's privately owned Caroline Hopkinson and her family, who told the Guardian in an interview, "We thoroughly enjoyed having the crew here, although I guess more exposure for this area could have some disadvantages." She also revealed her son got a chance to be an extra in the first series too.
Eric's house
Sex Education's Eric's (Ncuti Gatwa) house is Old Farm House Mews in Wye Valley. The property is privately-owned.
Otis and Eric's school journey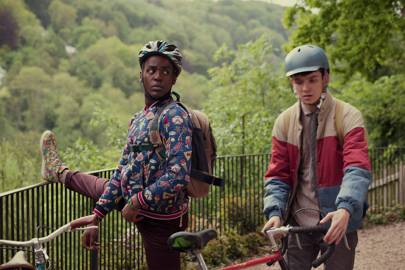 There are a lot of scenes in Sex Education featuring best pals Otis and Eric cycling to school, the same journey we see when they walk home from that all-night party.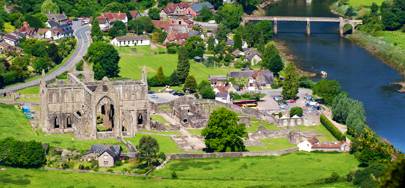 The backdrop was Wireworks Bridge in Tintern, which is located on the Gloucestershire border.
Brown's Village Stores
The shop where Ola (Patricia Allison) and Rahim (Sami Outalbali) both work and that Rahim lives above is in a coastal town in north Wales called Llandudno. It is, in fact, a real shop which has been around since 1928 and was named after its owners. Today, Roger Brown has been running the store with his wife Ruth since 1958. He told the Guardian: "We are being asked about the show continually now. It is amazing. And I haven't even seen it yet as I don't have Netflix. People stop when they see our name, which they kept for the show. So it is doing very well for us, which is lovely."
Adam's military school
Towards the end of Sex Education season one, bully Adam (Connor Swindells) is sent off to Mountainside Military School which continues into season two. The exterior shots of the school were filmed at Margam Country Park and Castle, a 19th-century Tudor gothic mansion that's wrapped up in beautiful gardens and open to the public (when there's no pandemic).
Jackson's swimming scenes
The swimming pool where we see head boy Jackson (Kedar Williams-Stirling) in season two were shot in the Newport International Sports Village, located at Lliswerry in the South East of Newport in South Wales.
Otis' running track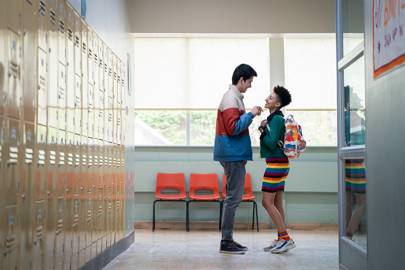 The running track which Otis makes a haste escape from during season two episode was filmed at Cwmbran Stadium in Cwmbran, a town just north of Newport.