Love her or loathe her, there's no denying that Kim Kardashian has built an absolute empire.
From finding fame on the now iconic Keeping Up With The Kardashians to launching her own beauty empire, the reality TV star is a business force to be reckoned with.
Arguably one of her most successful ventures is Skims shapewear. After navigating a touch of drama over the controversial name of the brand – and having to reprint and relaunch huge quantities of her shapewear – Kim proved her tenacity paid off.
The hype around the Skims brand as a whole has been deafening since it launched back in 2018. It started with the drop of the Skims shapewear collection (don't miss our Skims review if you want to know whether it's worth your money, hint: is it), and the release of the Cozy Collection closely followed: a selection of comfy, flattering, super-soft and size-inclusive joggers, loungewear tops, hoodies and pull-overs. Everything is made from a breathable and stretchy yarn and available in five colours (bone, dusk, camel, smoke and onyx) and sizes XXs-5X – offering something for every body type, style and skin tone.
But one item from the collection that's amassing rave reviews is the £35 Skims Sculpting Bra.
"This lightweight bralette provides support and shapeliness without sacrificing comfort or adding bulk," says Kim. "The supple feel and seamless construction make this sculpting piece an everyday layering staple that enhances your body' natural shape."
'Pregnancy is already such a difficult experience, and now you have to worry about looking skinny while you do it?' People aren't happy with Kim Kardashian's shapewear maternity line
And it seems she's not wrong; the reviews laud the shapewear for not only flattering their assets but for also being so damn comfortable.
One reviewer, who hailed it the 'best bra she's ever owned', wrote: "I absolutely love this bra! I wear a 34DDD bra and hate always having to wear the "traditional bra" that creates unwanted bulges and deep marks in my shoulders. THIS bra is made of the softest material making it the most comfortable bra I own. It is surprisingly very supportive and lifts as much as a pushup bra. I love how it makes a smooth seamless base layer under my clothes."
Another fan added: "I am obsessed with this bra. I wear it in replace of my other T-shirt bras. I have a larger chest (G cup) so it doesn't hold exactly like a bra would, but it's so comfortable and doesn't make me look saggy."
Trust us: these are the best bras for women with DD cup boobs and up that are comfy enough to WFH in
One shopper likened the shapewear to 'magic', writing: "I'm obsessed with all things SKIMS! I'm a real person, not paid, not a bot. I'm a curvy girl that's been using different shape wear brands for years and let me tell you- Kim K got this fabric from outer space cause it's out of this world. There is nothing like it- it's light weight, breathable and comfortable and MOULDS you.When I got it I thought- oh snap! I'm supposed to fit in that? It looks tiny but for me personally, the sizing is on point. Unike spanx or whatever I can't even tell by looking at the garment where're they tighter fabric is but when you put it on it SNATCHES you. I also got the mesh sculpting short, the sculpting bra, and the mesh sculpting short body suit thing and I can't get enough. Shipping has been amazing with every order too. Everyone needs this. Cant wait for the re stock!"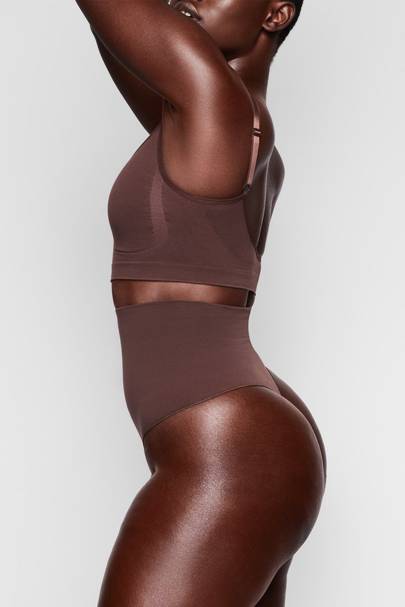 Other shoppers were, however, disappointed with the sizing and claimed the bra wasn't ideal for women with larger breasts. Others also noted it was better suited as a 'lounging' bra, rather than being super supportive.
Where can I buy SKIMS shapewear in the UK?
Skims is now available in the UK at Selfridges and Net-A-Porter. You can also buy direct from the SKIMS website, where you'll find a whole lot of choice, but the shipping costs may be more.
Here's our full pick of the best pieces from the Skims collection.