Promising Young Woman received four nominations at the Golden Globes, including for 'Best Motion Picture'. But if you were left wondering what on earth it is, we've got the lowdown – including when we can *finally* watch the film in the UK.
What's Promising Young Woman about?
Promising Young Woman follows 30-year-old
Cassie Thomas (Carey Mulligan) who seeks to avenge her friend, after she was raped. To do so, Cassie goes to clubs on Friday nights and pretends to be so drunk that she can barely stand. But when a predatory man takes her home looking to take advantage, Cassie suddenly snaps out of her 'drunken' state to teach him a lesson.
It's the directorial debut of Emerald Fennell, who worked as an executive producer on Killing Eve, and is being praised for tackling topics of consent and sexual assault.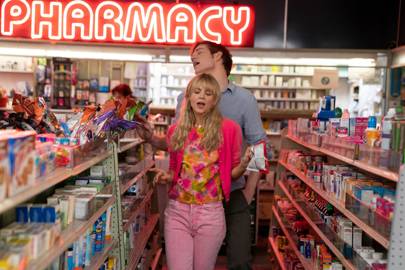 In an interview with Variety, Fennell said: "It's not just a movie for people who are very well-versed in all of this stuff. I feel very privileged that it's something that I care deeply about. But for generational reasons – or all sorts of reasons – lots of people haven't thought that deeply about this. And it needs to be accessible to them."
Who's in it?
Carey Mulligan stars as Cassie and her performance is receiving widespread recognition, with various nominations including the Golden Globes and SAG Awards. We wouldn't be surprised if she received an Oscar nom too.
Other cast members include Bo Burnham, Alison Brie, Clancy Brown and Jennifer Coolidge.
When is Promising Young Woman out in the UK?
The film was scheduled for UK release in April last year but was delayed 'indefinitely' due to the pandemic.
Promising Young Woman was released in the US on Christmas Day and made available on streaming platforms on 15th January. Now, it's scheduled for theatrical release in the UK on 12th February.
With the country in lockdown and cinemas closed, it's likely that the film will be made available on streaming platforms, though when exactly this will be and on which platform is yet to be disclosed.
Emma Corrin and Harry Styles are starring in this new Amazon film about a 'heartbreaking love triangle'
Is there a trailer?
Yes, watch it below and get excited!