If you're a feathered brows fanatic like us, we imagine you'll have also followed, saved or attempted to replicate Jess Hunt's perfectly full and defined brows. And you're not the only ones, judging by her 1.2 million-strong IG and YouTube following.
Jess also serves major inspo on how to achieve a glowy, glass skin finish and slay natural makeup makeup. And we're also in for her fun fashion hauls, product reviews, easy to follow hair tutorials and her YouTube vlogs from exotic locations, which bring out the inner nomad in all of us.
In an exclusive interview with GLAMOUR, Hunt shares her journey to becoming a beauty-preneur by launching REFY – her own brow brand with long-time friend and now business partner, Jenna Meek, founder of makeup brand Shrine. She also reveals how she handles life in lockdown and under the lens of her 1.2M followers, and shares all things beauty hacks, wellness and how to be a boss in 2021!
During the pandemic, I was busy creating a brand from scratch
"Developing and launching REFY has taken a lot of my time the past year or so, which has been a massive blessing but also a learning curve for me. I've had to adapt quickly and learn everything from scratch: the manufacturing, product development, etc, but it's been an amazing experience.
Not being able to travel has been driving me insane, I miss my grandparents so much!
"I've found not being able to see family and grandparents the hardest element to cope with this year. In a post COVID World I dream of hoping on a plane and dipping my toes on a sunny beach, or discovering a new location to obsess over in my travels.
Home workouts have been a lifeline during lockdown
"Wellness is important to me. I like taking care of my body mostly, so I really enjoy home workouts. The Krissy Celia app is really good. Like most people I have also been making the most out of the allowed allowance of outdoor walking this lockdown too.
As with anyone, growing up, me and my skin did not see eye-to-eye, but we are working on that relationship
"When I was a teenager I too was insecure about my skin. I've found that following a good skincare routine and drinking lots of water has really helped with my complexion and breakouts. Prepping the skin before I apply my makeup makes a big difference. My secret for a glowy complexion is cream based makeup products (from blush, to bronzer and highlight), which keeps my skin looking fresh and dewy.
Yes, I too was part of the slug brow gang!
"I once over dyed my usually blonde haired brows black. Nope, not a typo, BLACK!
My biggest beauty inspirations mood board looks a little something like this…
"Katie Jane Hughes, Adam Burrell and GLAMOUR's very own beauty columnist Nikki Wolff – their makeup style is completely my vibe. I would love to have my makeup done by them and pick up new tips and tricks! Rihanna – Fenty Beauty was groundbreaking in the beauty world. Her style of makeup is stunning and she kills it with her gorgeous skin every time. No one can compete.
I still can't believe that playing with beauty products and taking pictures is my career
"Growing up I've always been such a huge fan of beauty, make up and getting creative. I loved YouTube from the start and always looked to online tutorials to learn different beauty tips and techniques! Having a beauty brand/working in beauty has always been a huge passion of mine and I can't quite believe it's my reality now. I could only hope that this would serve as inspo for any girls or boys in their bedrooms creating lewks in front of their vanities with nowhere to go. Go for it, you never know when someone is watching!
I'm sharing my best kept brow secret with everyone
"One of my brow hacks would be to apply face or hair oils to brows to keep them thick and healthy. However the secret to my bushy, fluttery brows is now the REFY three-stage process. I had been following this for years, before I developed the collection. I used to use around five different gels to fix my brows in place and then set them with multiple brushes, so this has been a real time saver!
If my bathroom cabinet was on fire I would save…
"My favourite face wash and moisturiser of the moment (it changes every season, but for now loving the Ole Henriksen range) and of course my brow kit!"
The best make-up tip I've learned is…
"Dotting freckles with a small brown pencil over foundation to create that natural look / fresh faced skin is *chefs kiss*."
Meeting Jenna Meek from Shrine was a lifeline to make this whole REFY idea come together
"We met through the industry several times on a couple of shoots. It was on one particular shoot Jenna pointed out how long my brows took and we got chatting about how frustrating it was that there wasn't a simple fix to create this look. We started playing around with ideas, just joking and created the brow sculpt idea (I think we drew it on our iPhones!). One week later, Jenna messaged me, saying 'You know our crazy brow idea? I have presented it to a factory and they can create it.'
"This is where it all started. It felt like a natural collaboration between us, both having a lot of experience in the beauty industry. I've worked with lots of beauty brands as an influencer (and consumer) so I feel I have a good knowledge of what's available on the market and where the gaps are. Jenna has run Shrine, a highly successful colour cosmetic company for the last 5 years and has a great knowledge of branding, product development and distribution. Together we have created a dream team, even if I do say so myself.
I really believe with my whole heart that REFY is going to change the game
"I do believe the innovation and simplicity of the products make them stand out. There is no other product like the Sculpt out there, you can create a bushy brow like mine, however we want everyone to embrace their own "REFY brow", and the versatility of the products let you create as many looks as you want.
One of the biggest lessons I've learned from embarking on this beauty-preneur journey is to not be shy on being picky!
"It could have been so easy for me to get excited when I saw the first samples and just go ahead, especially as sometimes you don't want to seem difficult around your team. However, we honestly saw over a 100 samples on a product alone until it was perfect. Lastly I would say make sure you have passion in the field you are about to start a business in as it is non-stop so you really have to love it.
Maya Jama shares her ultimate beauty hacks and dreams of becoming a bartender as she unveils her new skincare range
I feel like I'm fully living in my purpose…
"I don't feel loads of pressure under the social media lens because I choose to separate it from my personal life and I've created personal boundaries that I stick to. But I do feel privileged to be able to do everything that I love as a job. As well as beauty, being a stylist is something that was always in the cards. I've always acted as the official pro-bono family stylist, helping everyone put together outfits for any occasion. My job allows me to bring together all my passions from beauty to styling and photography.
Stay tuned for all the exciting things REFY has in the works *eyes emoji*…
"We have some amazing new launches over the next year. My vision for REFY is that everyone can have a perfect makeup bag full of all their key products. We want to expand internationally and grow as a business, big things are happening in 2021, keep your eyes peeled my friend!"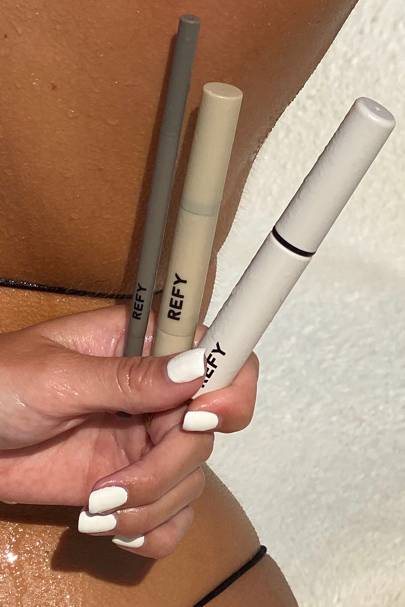 The REFY Range, from £14 is available at refybeauty.com