The British fashion industry is going through the mill. With some citing Brexit as a death knell for creativity and devastating social and economic side-effects from Covid-19, things are looking bleak, despite some original jolts of imagination from the recent digital Fashion Week.
Yet we are still shopping (online, obvs.) Consumers still want clothes that make magic (see how everyone pulled out all the stops at the Golden Globes?) and we are still hopeful that we can hug our friends, get married and dance the night away in the not too distant future… And within the fashion world there is one woman who has become the go-to for creating gowns dripping with the glamour we are currently craving. That would be Jenny Packham. The Southampton-born designer has been responsible for some of the sparkliest, most scintillating gowns the red carpet has ever seen, along with wedding dresses that light up the aisle.
From citing Taylor Swift, Rihanna, Gigi Hadid, Angelina Jolie and The Duchess of Cambridge as clients, Jenny Packham's business has come a long way since launch, 33 years ago. "Back then the world was very small!" Packham told GLAMOUR over Zoom from her London studio. The punk spirit of her teenage years was definitely an influence. "We'd watch people on Top of the Pops – they couldn't sing! – but there was an idea that if you wanted to do something, you work hard and you fight the system to get through. In this business, you have to not be intimidated by people and to really kick the doors down. Looking back at my younger self I'm like, 'Whoa, well done!' But it came from an era that was very much about fighting back and not being put down, which was the punk message."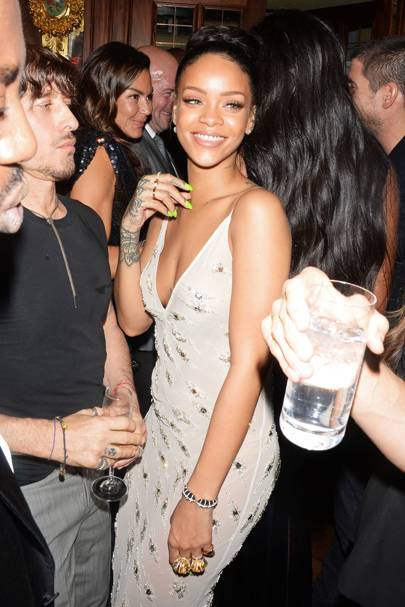 For young creatives looking for cut-though today, Jenny believes it might be harder, "I think you could dream bigger then because you didn't know how many people out there wanted the same thing as you. Although now, [Millennial and Gen-Z women] can express themselves with a push of a button. They can dress up in their bedrooms. They can put out what music they want, they can just say, 'here's my personality, look at it'. That's an amazing thing."
Putting yourself out there is something Jenny did this week, with the publication of her book, How to Make a Dress: Adventures In The Art Of Style. Despite it's prosaic title, it's not a self-help sewing guide, more like a memoir that unpicks the magic that has inspired Jenny throughout her career. Throughout How To Make A Dress, Jenny is refreshingly cynical about her place in the industry. "I feel really offended by The Devil Wears Prada and all those cliché types! I'm trying to bring a bit more depth to what we do, as creatives, and really work to develop something that someone wants to buy and feel transported by," she told GLAMOUR. And those glimpses into her personal design journey – where she imagines the characters and scenarios that vintage dresses have 'lived' through – make her words dance off the page, certainly transporting the reader out of our locked-down state of stagnation.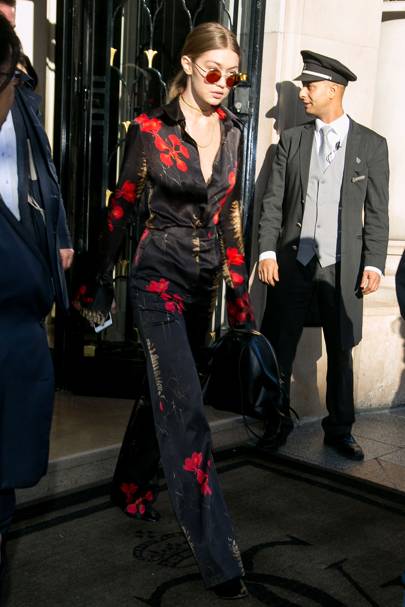 But in the post-pandemic landscape, how relevant is a designer label that creates evening wear and bridal collections? "We've been in a very scary world for the last year. Before we launched our new collection, I thought very much about the people that are suffering but I think I can offer a positive statement about escapism." Jenny's customers still definitely want to escape. "I'm surprised at how much evening-wear we have sold during this time, considering people haven't got anywhere to go! But I think they're buying ahead, thinking optimistically about the future. They've got weddings coming up so there have been hopeful purchases, buying something to look forward to." Like June 21st, circled in neon pen in our diaries, when Out Out outfits will be off the chart.
Jenny's vintage influences have been clear throughout her career and she describes some of her favourite finds in the book. With call-out culture live and kicking, at what point does she think inspiration becomes copying? And how does she balance appropriation, when looking at other cultures for ideas? "I used to feel really uncomfortable. I wanted to be really original. And then you realise that you can't. We're not designed to be cut off. But if you try and copy, it just looks like a vintage dress. I don't think it's the right thing to just copy [a dress] although maybe you just take a colour, a strap, an idea of finishing or a silhouette… Designers should be excited by the past and you should see it as privilege to take something from that, even if it's just a feeling. With cultural appropriation, the reason I [travel] is to feel inspired. I go out looking for inspiration but I don't want to steal people's culture. It's okay to be inspired – that's how designers and artists work – but I don't think you can just take it."
Wedding dress trends to expect in 2022 – from ethereal Princess silhouettes to dramatic sleeves and capes
Perhaps Jenny's longevity in the industry comes from her brand's focus on good time dressing. "Looking at the [recent LFW] shows, I was disappointed. I found them really serious. There was some very conceptual stuff and I'm not sure it's the right place for it at the moment. I'm very clear that we design for special occasions where people want to be happy. [No-one] goes out on a special occasion to be miserable! The psychology of what we do is always very clear. Someone wants to feel good, look good and they want to be able to move and enjoy themselves. When we are vaccinated, there will be an enormous sense of freedom. And I'm expecting the world to explode with creativity."
The impending redux of the Roaring Twenties would be the ideal fit for Jenny's jazz age aesthetic. When she moved into bridal, her designs were similarly game-changing when – at the time – wedding dresses were all strapless and all meringue-sized. "I'm proud of how we blew the cobwebs away. Now there is Erdem, Molly Goddard and Rixo and bridal is much more in line with general fashion, which is a good thing. Bridal is slow-moving! But girls can now really express their individuality with weddings."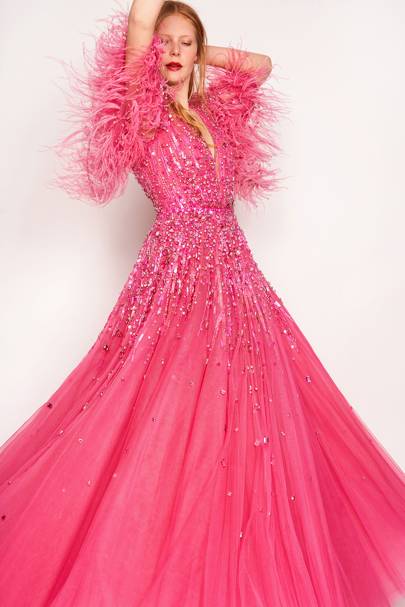 Evening-wear or wedding dresses are likely to be the most cherished – but least worn – items in a wardrobe and wearing a dress once is one of the least sustainable fashion choices you can make (although The Duchess of Cambridge has re-worn several of her dresses from Jenny.) How does the importance of sustainability balance with unsustainable fashion processes? "I'm so excited about the best seller this season because it's a simple draped dress. Outside the industry many people don't realise how many steps a journey of a garment takes. You could buy fabric from France, send it to India, onto logistics in China, then it comes back here or onto America… One of our embellished dresses could have 60 components to it and if you have a collection of 30 dresses, tracking all of those things is incredibly difficult. So gradually you've got to start simplifying that." As with the draped dress.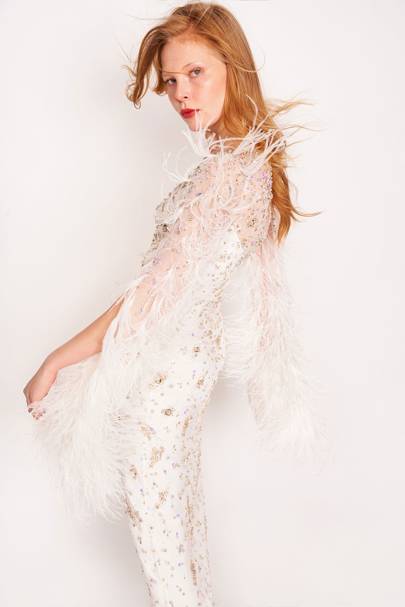 Jenny has been investigating biodegradable sequins for future collections and has made new dresses from her own fabric stockpile. "There's going to be a bit in the middle where you're doing it, but it might not be perfect," she admits. "But we use recycled or recyclable materials and make sure that all the materials are as close to our suppliers as possible." Baby steps are still a start. And for the woman who shook up the bridal world and created so many memorable red carpet moments, they are bound to soon turn into strides. "I would love it if one day someone bought an old dress of mine and did something new and exciting with it. I would feel honoured! [People] can change their outlook on life through something that you've created. That's such a privilege."
How to Make a Dress: Adventures in the art of style, £22, by Jenny Packham. Published by Ebury Press.