The husband of late Dawson's Creek writer Heidi Ferrer has urged medical professionals to look into the effects of long COVID-19 almost a year after his wife's suicide.
In a personal essay for The Guardian, Nick Güthe said Ferrer was "in her own personal hell" before ending her life in 2021, aged 50, following her 13-month battle with lingering coronavirus symptoms.
"Long COVID took her from one of the healthiest, most vibrant people I've ever known to a person so debilitated that she could not bear another day on this planet," he wrote.
READ MORE: Prince Andrew gives up military affiliations, royal patronages
Ferrer had contracted the virus in April 2020, and although she was initially mostly asymptomatic, she eventually saw her health dramatically deteriorate.
By May 2021, the television and film writer, known for her work on Dawson's Creek and Wasteland, was bedridden due to constant physical pain. She suffered from severe neurological tremors, in addition to other symptoms.
Güthe described his wife's experience with long COVID-19 as "the most terrifying deterioration of a human being I have ever witnessed."
He revealed the virus began to "systematically take her apart organ system by organ system."
"Three weeks before she died, we were already terrified that she would die — not by her own hand, but from a stroke or a heart attack," he wrote.
"She said her heart would often race out of control for no reason, and she was ahead of scientists in understanding that this virus also infects the brain."
Güthe said Ferrer began to lose the ability to eat and read as "the brain fog (better thought of as cognitive dysfunction) robbed her of the ability to retain information." As her situation worsened, even urinating or having sex became painful.
"Long COVID seemed to steal every part of her life that made it worth living," he added.
READ MORE: Woman reunited with stolen dog after couple's quick-thinking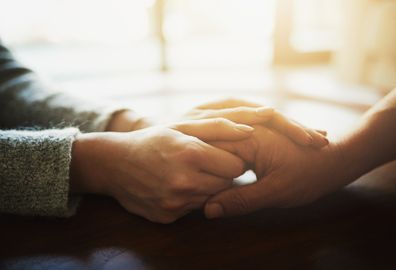 READ MORE: The sweet gesture Angelina Jolie still does for ex's son
Güthe ended his essay with a call to action, strongly urging medical professionals around the world to further investigate the "terrifying symptoms" of long COVID-19.
"I am not trying to be an alarmist, but we are in a true crisis. The global medical community must band together to find answers for those suffering," he concluded the piece.
"They are all Heidi and they are running out of time and hope."
If you or anyone you know needs immediate support, contact Lifeline on 13 11 14 or via lifeline.org.au. In an emergency, call 000.