India is currently facing a humanitarian crisis. The nation, which 1.36 billion people call home, has seen a sudden spike in Covid-19 cases over the past month, with 323,023 new cases recorded on Monday alone.
As racist attacks and hateful sentiments continue to plague the Asian community, it's imperative that we stop normalising racism in any form
There have now been 17.6 million recorded cases and 198,000 deaths caused by the virus, which is largely due to overcrowded ICUs, where patients have been turned away, and shortages of oxygen supplies. Case and death figures are thought to be much higher than what has been recorded.
The UK is among the nations who have started sending ventilators and oxygen concentrator devices to the Asian nation, EU members are also expected to start sending oxygen supplies. The US has lifted its ban on sending raw materials abroad so that India can make more of the AstraZeneca vaccine.
While governments are doing what they can to help the nation in need, there are things that you can do to help as well, like donating to charities, spreading the word on social media and supporting individual fundraisers. We list what you can do, below.
Donate to a charity
Give India
On Give India you can support specific missions from the charity, including donating to boost oxygen supplies, donating money for food for families in need and donating money for sanitary products for young women.
Action Aid
Action Aid is using funds to distribute safety and sanitation kits in communities around India. It has also set up help desks to provide information as well as direct cash transfers to people in need for food and health requirements. It is also arranging testing and vaccination camps to ensure widespread coverage and reaching out to migrants in rural and urban areas to make sure they are not being overlooked.
This new period care range aims to promote period inclusivity in the trans and non-binary community, and the campaign is so empowering
WaterAid
WaterAid says that 98 million people in India still live without a source of clean water. During the pandemic, it has been supporting India's government to integrate water, toilets and hygiene into health, nutrition and disaster strategies.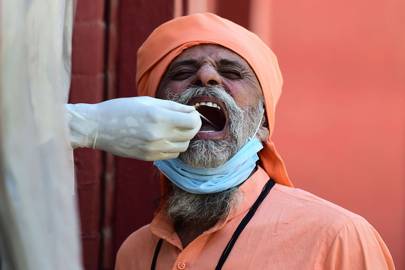 As Gal-dem reports, Indians have taken to Twitter to ask for help in searching for oxygen tanks, plasma and hospital beds. They need retweets so that their messages can fall onto the right person's feed who can give them information.
Sharing knowledge is one of the most important tools we have and, for those not fixed to the news cycle, they may not know about the crisis taking place in India. So sharing these stories on your social media feeds can help get the word out so that more people can take action.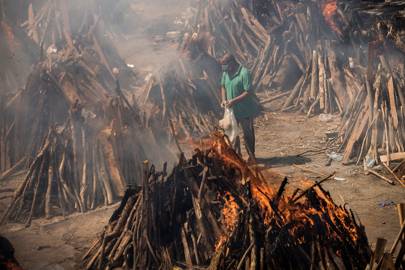 Support specific crowdfunding initiatives
According to TIME, activists have compiled a Google Doc which contains a long list of crowdfunding initiatives for families in needs and for minority communities. You can scroll through the list and donate here instead of a charity if you like as the funds will go to a specific person or people.