Ever since the record-breaking period drama Bridgerton hit our screens on Christmas Day; it's been coming for every element of our lives from our wardrobes, to our lingo, even to our sex lives and now it's coming for our homes.
With season two confirmed and other period dramas like The Great, Dickinson and Emma taking the streaming world by storm, there's no wonder the early 19th Century is influencing us now more than ever.
Bridgerton is set in the regency period, somewhere between 1810 and 1820. Throughout the season we see wonderful shots of the many beautiful homes and grand spaces; from the wisteria draped Bridgerton home; to Queen Charlotte's lavish palace; to Clyvedon Castle, the home of the overwhelmingly stunning Duke of Hastings.
What is the Bridgerton aesthetic?
The Bridgerton aesthetic embraces features like four poster beds; pastel colours; antique mirrors and handles; damask wallpaper; candelabras; embroidered bedding; regal shapes fabrics and patterns.
This decor style has been coined as regency-core and it's probably the least-expected interior trend to make a return to British homes.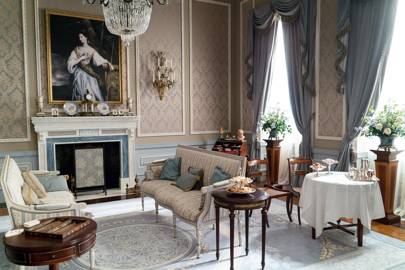 Many popular high street brands and search engines are seeing a huge shift towards Bridgerton-influenced search terms. Insights manager at Pinterest, Swasti Sarna informs GLAMOUR that "since the launch of Bridgerton, searches on Pinterest for "Bridgerton aesthetic" have skyrocketed 45x'.
What Bridgerton-inspired homeware is trending?
At John Lewis and Partners they've seen a huge increase in sales of patterned tablecloths as sales are up by 553% compared to the previous year. Bridgerton really pushes the boat out when it comes to dining, we see many picnics, tea parties, luncheons and balls. Investing in a regency-core patterned tablecloth is a quick win if you want to embrace the Bridgerton aesthetic.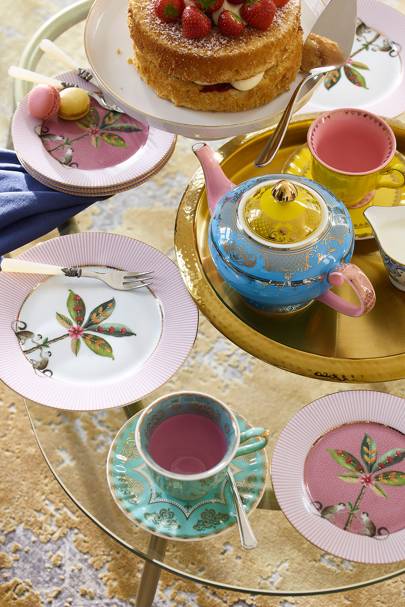 A regal afternoon tea is certainly on the menu this year. At Pinterest searches for antique tea cups are up 43%, tea room decor is up 70% and tea station ideas are up by 54%. Why not recreate Lady Danbury's female-only lunch, afternoon tea, lots of drinks, a few quirky and competitive games – party like it's 1813. I'd probably take that over 2020 tbh.
We see enough action in the bedrooms throughout the series (maybe don't watch with your parents), bangin' aside, we're absolutely spoiled with shots of the queenly beds, the magnificent furniture and various regal patterns and textures. John Lewis and Partners have seen an increase in popularity for four poster beds with their recently introduced own brand version selling out.
How do I embrace the Bridgerton aesthetic?
You don't need a grand opulent house like the Bridgerton's or Featherington's in order to embrace the regency-core aesthetic. A subtle introduction can go a long way, you could transform a small room, a reading-corner or maybe just have a drawer full of Bridgerton-inspired tableware ready for a special occasion.
You don't have to go full 1800s to give your home a bit of Bridgerton flavour, by mixing up the regency-core trend with some modern shapes and textures you'll have the approval of the ton of 2021.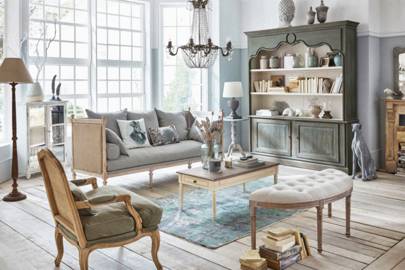 Here's GLAMOUR's edit of the best regency-core homeware pieces to subtly introduce your home to the Bridgerton aesthetic.