Fresh from her win at the Australian Open, tennis star Naomi Osaka underlines why she is a champion both on and off the court as she claims yet another title: Sports Gamechanger at GLAMOUR UK's Women of The Year Awards 2021. Here, Naomi opens up to Josh Smith about racism and how the resurgence of the Black Lives Matter movement inspired her to use her voice for change.
When Naomi Osaka pulled her visor over her face to conceal her tears during the trophy ceremony for her first Grand Slam win against Serena Williams at the US Open in 2018 – with boos echoing around the stadium after Serena's heated argument with the umpire over points deducted for code violations – no one could have anticipated how much of a gamechanger she would become, both on and off the court. But as the world of sport and beyond has learned since that shock win, no one can underestimate the power of this 23-year-old.
Two years after becoming the first Japanese person to win a Grand Slam, Naomi is a former world No.1 – she is currently ranked No.2 – with four Grand Slam titles lined up on her mantlepiece (two at the US Open in 2018 and 2020 and another two at the Australian Open in 2019 and last month). She has also become the highest-paid female athlete in the world – EVER. According to Forbes, Naomi made $37.4 million between 2019 and 2020 in prize money and endorsements from brands including Nike, Mastercard, Beats By Dre, Playstation and Nissan. Most recently, she has become the face of Louis Vuitton. Naomi describes these opportunities as "somewhat gamechanging", although the sheer amount of money involved even eclipses the earnings of sporting greats Serena Williams and Maria Sharapova, whose selling power was previously deemed unmatchable.
GLAMOUR Women of the Year Gamechangers in Music: Little Mix on their decade at the top and new life as a trio – 'We've really shown that women standing together works'
Naomi calls me from her Melbourne hotel room where she is quarantining (this is where she self-shot her GLAMOUR cover image) except for five hours of allocated practice time a day for the first Grand Slam tournament of the year: the Australian Open. When we speak, it's four weeks before she will eventually win the trophy.
I ask her how much she has personally changed since that tearful moment in 2018. "I don't feel that different," she replies. "But I do feel more confident and prouder of myself that all of my hard work starting from the age of three paid off. I think the moment you win a Grand Slam, there is more pressure on you to perform so that is challenging, but I'm always excited to walk into those high-pressure matches knowing I can prove myself time after time."
Naomi's career and her champion mindset have been brewing for 20 years. When she was three, her Japanese mother, Tamaki Osaka, and Haitian father, Leonard Francois, moved her and her elder sister, Mari (also a professional tennis player) from Japan to Leonard's parents' home in Long Island, New York. Naomi soon picked up a tennis racquet after her father watched a then-teenage Venus and Serena Williams compete on TV. With zero tennis experience and inspired by the tenacious Richard Williams, who famously trained his daughters to Grand Slam glory, Leonard became the coach for the Osaka sisters, using a selection of books and DVDs for inspiration.
Soon Naomi became solely focused on just one thing: becoming a professional tennis player, and as a young girl she favoured the public tennis courts of Long Island over parties. I wonder, considering her meteoric and determined rise and the sacrifices that have inevitably come with that, what is she most proud of? "I think winning the latest US Open [in September 2020] was a very proud moment," she answers without hesitation. "Being in a bubble, not having a crowd [because of the pandemic] all while dealing with the news of the civil unrest our nation was dealing with. It was important to bring to light and have people start talking about the names of Breonna Taylor, Elijah McClain, Ahmaud Arbery, Trayvon Martin, Philando Castile, Tamir Rice, and George Floyd. I was making a point and I was proud to wear their names across my face walking onto the court."
Naomi is referring to the fact that she wore seven different face masks for each stage of the tournament, each emblazoned with the names of a Black people who died at the hands of police brutality in America. Coming at the time of the Black Lives Matter movement's resurgence, and with protests against racial injustice sweeping the globe, the move said just as much about Naomi's power as her serve. "I wanted my voice to reach different people and the entire world," she says.
"But I felt the most proud of myself when my parents said they were proud of me during that moment," Naomi continues, reflecting on the close relationship she has with her mum and dad, both of whom travels with her. "I never want anything to hurt them. I know that everyone sees the positive of it and everything, but at the same time, I started getting death threats [from trolls on social media], so I didn't want them to be hurt. But my mom and dad were really supportive, so I was happy!"
"I am a Black and Japanese woman. Seeing the injustices faced by Black Americans made me sick to my stomach. I felt it was the right time to use my voice and my platform to let people know my stance on the matter and not be silent.
It is evident the Black Lives Matter movement has had a profound effect on Naomi. "It affected me personally because I am a Black and Japanese woman," she discloses. "Seeing the injustices faced by Black Americans made me sick to my stomach. I felt it was the right time to use my voice and my platform to let people know my stance on the matter and not be silent.
"At the beginning of the pandemic, I promised myself that I was going to step out of my comfort zone," she adds. "So raising my voice at the US Open about police brutality faced by Black Americans was not only a promise to myself, but a cry to raise awareness of violence by the police and others and to foster the conversation about how to combat it. While 2020 was a tragic year, the initial time off from tennis gave me time to pause and re-set. For the first time I was able to consume news in real time and think about my place in the world. Of course planning a tennis schedule is more difficult now, but that's not the most important thing in life. I just had a very productive and focused off-season, so let's see how that translates in '21."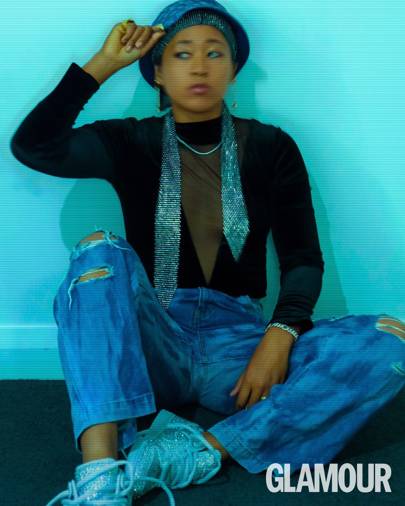 There is no denying the "US Open was an eye-opener," for Naomi and a huge moment in her realising she could use her platform – with over 3.6 million followers across social media – for change. But, as she admits to me, "off the court, it's taken me a while to find my voice." Does she see herself as an activist? "I'm hoping to drive awareness to important humanitarian issues," she responds. "I see my platform as kind of a vessel for the important messages. I'm not too concerned with how people want to label my actions – I just follow my instinct and what I believe to be right."
The messages that Naomi has received have further underlined that she was right to banish her self-doubt and use her voice effectively. "There was this boy who lives in Japan, he said he's half Black, half Japanese, and that in Japan people don't really like to embrace that topic. But after the US Open, it started a discussion within his class in school and he was really grateful for that. It made me feel really happy," she beams.
In light of increasing racial hatred against Asian people – the organisation Stop AAPI (Asian American Pacific Islanders) Hate received 2,808 reports of anti-Asian discrimination in the US between March and December last year – as well as the ongoing discrimination Black communities face, we discuss how racism has played out in Naomi's own life. "When I was little, I didn't really understand the concept of racism, but I did start to pick up that everyone was different, and some people were being treated differently than others, based on their appearance," she reflects.
"I would just watch interactions that my parents would have – because my parents, for the outside world, would be classified as an interracial couple – and sometimes they would get harassed a little bit. That's when I started noticing that some people get treated differently," Naomi sighs.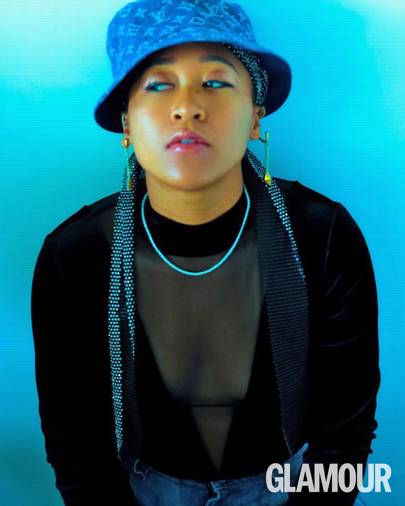 Does everyday racism still infiltrate her life, even in her position as an international sporting great? "I would say it does, but at the same time, I can't really grasp a great timing on it, because I would have to think back before Covid and I honestly don't interact with people at all any more. I feel like certain thoughts were conditioned from when I was little, like [if] I go outside, or I go to the store I feel like I have to act very 'proper'. I don't know how to describe it, but I just feel like I have to act a certain way and not draw any attention to myself."
This reluctance to draw attention to herself has led to Naomi being given a label she wishes she could shake off. "I think the biggest label is that I'm shy. I mean, it's partly true, but not to the extent that it's been portrayed in the media. What people don't know is that I'm actually super goofy and funny, but I only speak when I know it matters, if some people want to mistake that as 'shy', I'm fine with that, but I'm really just thoughtful with my words and actions."
"Success for me is not just on the court – I want to be a good person and a voice for progress and change. I'm always hard on myself when I don't live up to the expectations I hold myself to. Sometimes you learn more in defeat than in victory."
Naomi is indeed softly spoken throughout our chat, measured in her responses and that is exactly why I see her as endearing rather than 'shy'. Not all champions have to scream and shout about their achievements, and with that in mind, we move on to discuss how her definition of success and failure has changed. After all, in a sporting world your 'success' can easily be defined against your win/loss record. "Success for me is not just on the court – I want to be a good person and a voice for progress and change," she remarks before admitting, "I'm always hard on myself when I don't live up to the expectations I hold myself to. Sometimes you learn more in defeat than in victory."
Learning to manage the relationship with her own mind has also been a victory for Naomi. "It's not really a secret that I've struggled with – I don't know if I should call it mental health – but I guess that would be it," she second guesses herself, before continuing. "I've struggled with that, especially since I've been with my family for such a long time and when I first started travelling by myself, it was hard. I do feel like I go on the tennis court by myself, but at the same time, I have a team with me and they're my support, and I feel better when I remember that. They're the ones that train with me and we go through everything together, and even if I win or lose, they'll have my back."
Is there a loss that seemed so negative at the time but looking back has been an empowering moment? "Oh, wow," she gasps in response before taking a second to think. "I would say probably Wimbledon, two years ago. I lost in the first round and I thought my life was completely over, because up until the later part of 2019, I based my entire life around the results of my tennis matches. I thought I was worthless when I didn't win a match. I would probably just tell myself being a tennis player is what I do as an occupation, but it's not my title as a human being." It says everything about Naomi when she adds, "I'm always figuring things out… maybe my title is a student."
"I feel really proud whenever female basketball players or female soccer players do anything. We're all watching each other and, in a way, protecting each other."
In fact, one new title that Naomi is adding to her already impressive CV is football club owner, as it was recently announced she has become the co-owner of women's football team North Carolina Courage who compete in the highest level in the USA, the National Women's Soccer League. The move is a true symbol of the rising sisterhood and solidarity in sport. "I definitely feel like there's a very strong sisterhood," Naomi says. "I feel really proud whenever female basketball players or female soccer players do anything. We're all watching each other and, in a way, protecting each other."
However, this is no denying there is a gender disparity when it comes to sport. According to the organisation Women In Sport, 1.5 million fewer women than men participate in sport at least once a month, women only make up 18% of qualified coaches and in 49% of publicly funded national governing bodies, less than a quarter of their boards are women. Even though tennis is one of the only sports in the world with relative pay equality – thanks to the WTA that was set up over 48 years ago to protect female tennis players – there is still much work to do, something Naomi is more than aware of.
"In tennis, I'd have to say the implementation of equal prize money for men and women at the Grand Slams is progress," she says. "I would definitely want to see the gender gap lessen, at the least. The ultimate goal is for it to be equal, of course. Tennis is very close to parity thanks so some amazing women that have come before me, like Billie Jean King and Venus Williams. Clearly there's much more work to be done in other sports – especially those where the women's game is rapidly gaining more traction, like soccer and basketball."
Having watched a Eurosport reporter remark, "she hits very powerfully for a woman," as Naomi captured her fourth grand slam, I ask about her experiences with sexism. "What I've experienced, honestly, isn't as bad as the different stories that I've heard from other female athletes," she replies. "I don't think that I've ever encountered a situation where I felt like I couldn't do anything because I was a female." Now that is the definition of girl power.
As our time wraps up and Naomi prepares to run to the practice court, she shares the advice she would give to the next generation. "Use your voice and don't be afraid to stand up for what matters to you. I know it is easier said than done, but don't shy away from it," she declares.
But Naomi isn't just an inspiration for the next generation, she is a role model for all generations. "One piece of advice I will always keep sacred and with me was from Kobe," she continues, referencing the late basketball icon, Kobe Bryant, her own gamechanging hero. "He was a mentor and close friend and he helped me get through some of the toughest parts of my life as an athlete. I remember telling him I wanted to be like him, and his response was 'No, be better.' I will never forget that."
Join Naomi Osaka at the GLAMOUR UK Women of The Year Awards on Thursday 11th March at 7pm