Since emerging on our screen in TV comedy Black-ish seven years ago, Yara Shahidi has continuously used her voice for change – raising awareness of everything from racism to female education. As she adds another award to her list of achievements: GLAMOUR's Women of the Year New Gen Gamechanger, she opens up to Josh Smith about a year like no other for social change.
Sitting down with 21-year-old Yara Shahidi is like having an audience with Yoda – she is that wise; it's not everyday you hear Einstein quotes being dropped into conversation.
When I first met her she was 19, in New York promoting her debut movie in a leading role The Sun Is Also A Star – the story of a girl attempting to fight her unjust deportation. Then, she spoke powerfully about the racist micro-agressions she experienced every day. This commitment to using her platform to discuss the 'difficult' topics (she has 5.7 million Instagram followers) has continued to fuel Yara, and has been ever present in her life – both on and off screen – since she made her debut aged 13 in the Golden Globe winning comedy, Black-ish, playing Zoey, the eldest daughter of Tracee Ellis Ross' Rainbow Johnson. Now with her own spin-off Grown-ish in its third season, the shows have continually navigated discussing race-related topics with a balance of humour, too.
Alongside Yara's acting career – she recently landed the role of Tinker Bell in Disney's remake of Peter Pan – she has enrolled at Harvard University after Michelle Obama sent a letter of recommendation (they have continuously appeared together promoting girls' education), founded her own platform, Eighteen x 18, that seeks to uplift a new generation of voters to ensure their voices are heard, and in collaboration with Young Women's Leadership Network of New York, she has also created Yara's Club, providing online mentorship in the hope of eradicating poverty. It's no wonder Oprahtouts her as a future president.
And her family have been alongside her every step of the way. Her mother Keri Salter Shahidi was a model before she became Yara's business partner in 2020 when the pair launched their own production companyNAME and signed a deal with ABC to produce new shows, steeped in her cause to change the television landscape. Her Iranian-American father, Afshin Shahidi is a photographer who even shot Yara's GLAMOUR UK cover from their home.
Here, Yara reflects on how far she has come and how much further we need to go as a society we need to go in the pursuit of equality…
From the moment you won your role in Black-ish aged 13 to now at 21, how different do you feel? How has growing up on a public platform shaped you?
It's really a matter of just seven years of growing up. What is really markedly different and so special about the people behind Black-ish is they have embraced my growing up and into different spaces creatively, which I feel very lucky.
Starting in panels at the age of 14 because Black-ish was covering topics of police brutality, and the election and so many other cultural touch points, I don't think many 14-year-olds are given the space to really be heard on these large topics. That was instrumental to me then, being able to say, 'I love the fact that I have a voice and a platform,' and now I want to be able to use it to have conversations that I'm extremely passionate about.
There is no denying you have achieved so much by the age of 21, but I find it so frustrating when someone says, 'wow you've achieved SO much for your age,'' as if age is a limitation on achievements. How has reverse agism affected you?
Being somebody that often impressed people partially because of how young I am, what was on top of mind was, 'have I peaked at 17?' Even though I definitely say that jokingly, it is funny to have to pass through as a young person feeling good about what you've accomplished and knowing that I should not be considering age as something that makes it inherently more impressive.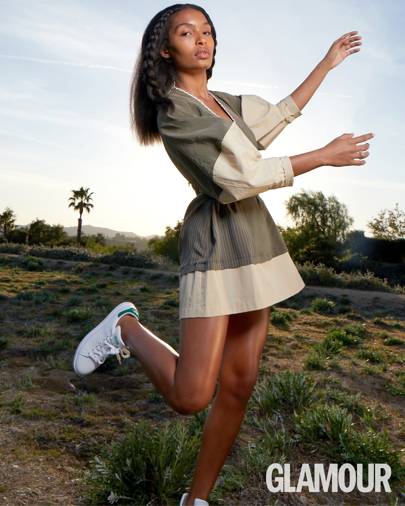 The only reason I make that distinction is because I started my voter work at 17 and a lot of the things that I started and I'm doing right now started at a young age. And there is this ever-present question of, 'is it as impressive now that I'm in my twenties?' That was more of a 'me' question and wasn't influenced by anything I was hearing around me. So I just had to set that aside, but ultimately I've not experienced traditional senses of reverse age-ism, partially because I've been surrounded by a support network of people who have continued to value my voice.
You are a friend and an ally to so many communities, but if you could go back and be an ally to yourself at a time in your life, when would it be and what advice would you give to you?

At the age of 17 I was on Black-ish, in school full-time and juggling many responsibilities. While I enjoyed myself, there are times where I made my commitments feel too serious, instead of just being able to live in the moment. This is where I'm grateful to have a family who has always emphasised that we work hard and play harder because without them, I would have been wrapped up in my own little bubble.
I didn't necessarily step back to take the time to consider, 'Yara, you are doing a lot for your age, you should give yourself space and flexibility considering that you are working full-time, and you're pouring in to both of these as much as you possibly can.' I would say that to me at 17, I think it could be helpful. Even for me now, I do the same thing at times. Part of being a multi-hyphenate is allowing yourself to feel the flow of energy, trust that you will intuitively put your energy into what you need to and to not be hard on yourself.
How have you learned to manage success and failure and how do you define them?
For me, success has been defined by my family, not let's say, a job well done or in those traditional senses. But really has this been an experience of growth? Am I satisfied with what I put into that experience? I have found success in many different areas, but often not in the areas that are expected.
It's really not something we discuss often in our family, the idea of failing. The one thing that we do refer to is Einstein's definition of insanity, 'Doing the same thing over and over again and expecting different results.'
What has been something that felt at the time to be a failure or negative in your life, but retrospect had a gamechanging effect?
One of the things that I've tried to push through is the discomfort of standing up for myself. One of my goals is to be able to advocate for myself as well as the other people around me. Moments that I would address as failures are those moments in which I decided that it would be easier to have lower standards, or to be OK with something that does not fit my needs.
How have the social movements of the last year, particularly the Black Lives Matter movement, affected you personally? How did it make you reflect on your own experiences of injustice?
Black Lives Matter is an organisation that has been fighting tirelessly whether or not society has been paying attention since its origins, so I'm glad that this was a moment of people paying more attention. But what is more unfortunate is the fact that it required the atrocious loss of precious human life in order for people to pay attention. This should not be a tit-for-tat thing, the idea that we need these awakenings at the cost of people losing family members, of having to go through communal trauma in order to then address systematic racism and discrimination.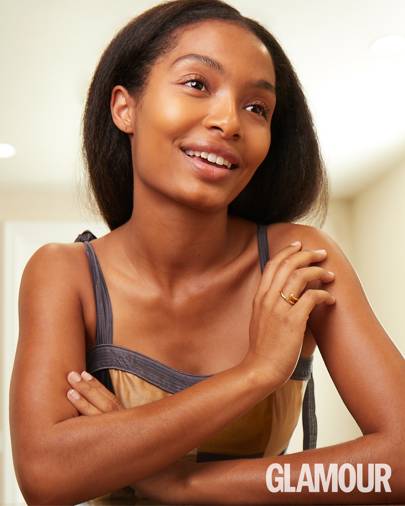 With that being said, I am grateful for the sustained response in a way that we hadn't seen before. Partly due to the pandemic and the fact that life didn't just move on the next day as it has so many times before. It made us as a society, particularly dominant culture and people who had not been engaged in this conversation before, willing to sit in the discomfort that Black and brown people have been feeling forever. We saw very creative ways in which people sustained social engagement, made policy change, and continued to figure out ways to safely organise that I am so inspired by.
It continues to make me reflect how I can use my positionality in the world. Of course, we want to make a difference on the television landscape and as producers, that was the next big step, because even though I've really loved my experiences in front of the camera, ultimately as an actor you are handed what you are saying and you don't have the same level of control. Having spent years not only living this but studying what it means to be socially engaged and to think of using the media ethos in a positive way, production has been a way in which we can create more equitable television infrastructures from its inception.
The other thing is figuring out how to continue to double down on making change in everyone's everyday life. What has been important to me is being aligned with the work and demands of grassroots organisers doing the advocacy work, and figuring out how to use my platform to amplify their message. There was a two-prong conversation of re-interrogating, what else can we be doing, in terms of how we engage the corporate infrastructures that we're involved in, but also how can I be doing regular work of engaging young people?
So that's where I prioritise: speaking at colleges and other youth groups. Because we have to be willing, especially as Gen-Z, to continue in the education together. There's so much that we're going to be learning together and a willingness to learn is really what's required. I'm hoping that the seismic shift that happened in society is sustained and that we don't take this temporary moment of 'peace' as a feeling of success. If anything, we take it as a moment to feel rejuvenated enough to continue the work.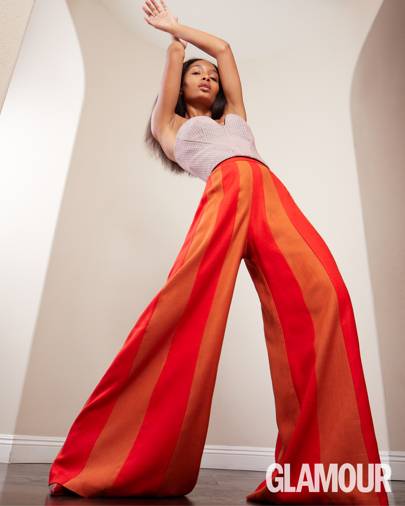 What labels have been placed on you and what have you had to fight against?
As somebody who advocates for equity, oftentimes it can look like we are complaining about the minutiae to dominant culture folks and it may translate as being nitpicky. For example, 'Why does it matter if we don't have a Black or brown person on cast, if they're all talented people?' There have been times in which I've had to explain that advocating for these things does not come from a selfishness, but from a level of commitment.
I've been fortunate enough to have people around me who are willing to listen and understand that when they hear myself or my business partner/mother talk about doubling down on the details of how something is done, it is not out of a desire to be in control of things, which I think is something that is often put on Black women. The only reason it seems like you're hearing our mouths a lot is because no one else has shared this commitment to equity enough to bring it up before we have to. In many ways those conversations have been very productive to break past perceived labels because these requests help them understand the importance of what commitment looks like and how sometimes that can be uncomfortable.
What has the last year taught to you about what you need for your own self love and need for joy?

What I'm still very much learning is that I need to actually ask myself those questions. I don't know if I had stopped to really think about what brings me joy enough. Having this experience of a year really focusing on social distancing, quarantining, et cetera has really helped me create my list of what makes me happy.
Who is your gamechanging hero?
Patrisse Cullors (co-founder of Black Lives Matter movement). I am so grateful to know her. I have been impacted by her work long before I ever met her, and then only further impacted when I've been lucky enough to be in her orbit. As a young person dedicated to being socially engaged, just in hearing her speak, figure out how to form an opinion, or question the infrastructures around me.
What is your one gamechanging piece of advice?
Support networks are key! Especially for my young people out there, whether it be your family, your chosen family, your friends, a teacher, a professor, the person that's just in your community. Support networks are so crucial to us being able to move forward. Oftentimes there is a pressure to do things on our own, whether it's explicit or implicitly stated. It is actually to our benefit to be surrounded by people that care for you deeply and for you to similarly be a part of other people's networks to care for them deeply.
It's GLAMOUR UK's 20th anniversary, what's your hope for women in the entertainment industry in the next 20 years?
While we have begun to crack the surface of inclusivity, there is still so much work to be done. I hope that in the next 20 years we accept the task of totally re-imagining the system to be more equitable. We should imagine, 'how do we enfranchise creators of many intersections to feel like they have ownership over their projects and figure out ways to ensure that sense of ownership?' I'm particularly excited for more global conversations on womanhood, and that gets rid of the narrative of connecting in spite of our differences, but because of our differences.
We'll continue to nuance what 'feminism' looks like. It'll continue to nuance ideas, what allyship looks like and of what united coalitions look like and I think media can lead the charge because in many ways we have depended on art to begin to imagine worlds that we have yet to imagine.
Do you see yourself as a gamechanger and what have you learned about changing the game?
One thing I've learned about changing the game is that you kind of have to be unabashed in it. When I look at the gamechangers around me, there is a pride in which they carry their work with them and de-stigmatise the idea of being a disruptor. I think for so many women and women of colour, being disruptive is approached very punitively by our society, but what creates gamechangers are those people that unabashedly take on the idea of being a disruptor.
Watch the first virtual GLAMOUR Women of the Year Awards tonight, Thursday 11 March at 7pm.