When the devastatingly powerful, sob-inducing It's A Sin exploded onto our screens earlier this year, it instantly made a star of 27-year-old, London-born actor, Lydia West.
Lydia, who is GLAMOUR's Women of the Year Gamechanging Rising Star Award winner for 2021, portrays Jill Baxter in Russell T Davies' hit HBO/Channel 4 series which follows a group of friends living through the heart-breaking challenges and losses of the HIV/Aids pandemic in the 1980s.
The show – based on Russell T. Davies' own life experiences at that time – has had a seismic impact, with some 6.5 million viewers tuning in so far. Fans have praised Lydia for her staunch representation of allyship to the LGBTQ+ community (something she reflects IRL too), as Jill tirelessly campaigns for HIV and Aids awareness through protesting, counselling and caring for her many terminally ill gay friends throughout the five-part series.
Such was the power of Lydia's performance as Jill, who was based on Jill Nalder, an LGBTQ+ activistand friend of Russell T Davies from the '80s, that her compassionate and brilliant performance even spawned a hashtag on social media: #BeMoreJill. This then saw a surge in the LGBTQ+ community spotlighting their very own 'Jills'; allies who stood by them during the HIV/Aids pandemic. The real Jill Nalder, who is an actor, even played Lydia's mother in the show. Lydia has been effusive in her praise of learning from her character's namesake's real-life experiences and having her support on set.
It's A Sin wasn't Lydia's first gig – she also starred another (truly terrifying) Russell T Davies hit, Years And Years in 2019, where she played tech-obsessed teenager, Bethany.
And we can expect to be seeing more of Lydia on our screens shortly, as she's starring alongside Sam Heughan and fellow GLAMOUR Gamechangers Award winner Priyanka Chopra Jonas in the forthcoming rom-com Text For You, which is currently in post-production.
Here, our Gamechanging Rising Star 2021 tells GLAMOUR's Emily Maddick about using her platform to continue her activism, feeling under-represented in the entertainment industry[/link] as a mixed-race woman and why she longs for inclusivity on all mediums.
Hi Lydia, you've already achieved so much… what has been the biggest gamechanging moment in your life?
When I booked my first professional job, Years And Years. I remember arriving at the read-through and feeling like such a small fish in a massive pond. I was so nervous but excited and it was just such a pleasure to be working with such an amazing team of actors and creatives.
And the biggest challenge?
My biggest, most recent personal challenge would be the beginning of lockdown. It took me some time to adjust and learn how to slow down, and to take care of my physical and mental health. I was reminded of the true value of friends and family when not being able to see them. I didn't appreciate what being in close contact with friends and family [prior to the pandemic] meant. Like, I would go to my Grandma's every Sunday for dinner – my grandparents are in their eighties – and once that's taken away from you, you realise the value of face-to-face contact with loved ones.
As much as the Facetimes and the phone calls and voice notes are great, if you're someone like I am who spends most of my days filling it with people around me who I love and that's taken away, I felt on a desert island and isolated. I was lucky because mid-pandemic, I moved in with my sister Rachel, who is a primary school teacher, which has been lovely. She is a key worker so she's been at work every day, so it's been amazing to see how she's been coping with it, teaching key worker kids. For her life hasn't really changed that much and for everyone else it has just stopped, so it's nice to live with someone who is coping with the pandemic in a completely different way.
"It's just about having self-compassion and it's OK if you want to spend a day in bed and not be productive… it's OK to just watch TV and eat cake."
When it came to looking after my own mental health and feelings of anxiety and loneliness, all the pandemic feels that we've all been going through, I realised it's just about having self-compassion and it's OK if you want to spend a day in bed and not be productive and not learn an instrument, it's OK to just watch TV and eat cake. You are affected by your individual circumstances, but it's also about taking that and putting that in to the wider lens of having compassion for other people, the huge amounts of loss that are occurring, so of having that awareness of your situation, but also compassion for others and making that a point to bring some perspective to your own life.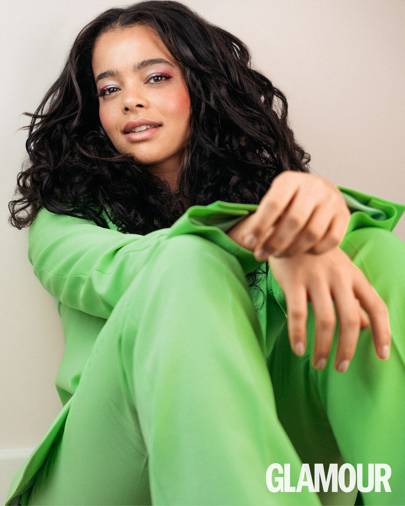 My best friend Callum [Scott Howells] who was in It's A Sin – he played Colin Morris-Jones – lost both his grandparents during the pandemic and he leaned on Omari [Douglas, who plays Roscoe Babatunde] and I. It was such a horrible day, he lost them both within eight hours of each other in hospital in the first lockdown. So being there for Callum and to hear what he was going through, in terms of loss, it was so hard for him.
Omari, Callum and I have a group chat, and we made ourselves available to him all the time. What helped was trying to get his mind off it, because at times of deep loss what people sometimes need is a distraction, when that's what you're going through with your family you need an escape to be OK. So, we'd get on the phone and talk about silly things, the news, a TV show, pop culture or something trivial.
We all work to find our voice – how has It's A Sin helped you find yours?

It's been a real turning point. Realising and understanding our reach as performers in this show and understanding our influence feels very powerful. I love the fact that we are able to raise awareness on HIV/Aids through the story, and continuing that education and activism further to the show airing, has felt really special and important.
Jill is such a great person and also such a great character, and I tried to bring as much of myself as I could to her. It just so happens that I am quite a nurturing and – I'd like to think – caring person, so to extend so much love to these boys and to become such close friends with them in real life, when it came to playing her it was so easy because they're all so nice, it didn't feel like acting. I kept thinking, should I be trying harder to make this chemistry happen? Because it's just here, so when people commend the intimacy that Jill has with these boys, I don't take a huge amount of praise in it, because it was just effortless. I plan to continue to use my influence to affect people as positively as I can.
"I plan to continue to have those difficult conversations because I believe the fight for equality and racism and transphobia and xenophobia and homophobia and sexism is still very much present."
I try to speak as honestly as I can, I plan to continue to have those conversations and to have difficult conversations because I believe the fight for equality and racism and transphobia and xenophobia and homophobia and sexism is still very much present and it still exists. So, just knowing that I will always have an opinion on that and I am very comfortable to discuss it and to be asked about it and to petition about it on a social scale, that's how I plan to use it.
Hopefully through future roles too, I would love to continue to tell stories that include marginalised communities and complex characters; stories that include deep representation of society as we know it now. So if I'm given more opportunities to do these kind of jobs, to tell these kind of stories, that have been shut down for so many years for so many people.
What advice would you give to other women hoping to make change in their own pocket of the world?
You are powerful. Women are so powerful, and sometimes we don't see it because of society, but no longer are we servants to that narrative and dated societal norms. Everything is within us as women to do amazing things, so take the chance, take the risk, and be that change because you will NOT regret it.
What would be your one game-changing piece of advice? And what has been the game changing advice that has shaped you most?
I remember on rehearsal week of It's A Sin, Russell T Davies, the writer and creator gave us all advice and said, "None of you are lucky to be here. If you're lucky you can easily be unlucky, but if you're talented and work hard you cannot be untalented and lazy." It really stuck with all of us and it's just a reminder that you are special as you are, it's not external, it's internal and everything that is meant to happen will. That doesn't discount difficult parts of life, which we all go through, but more a reminder of knowing that what is meant for you will not pass you and you deserve it.
We are three years on from the #MeToo movement, how much change has there been in your life? What sexism have you experienced?
The industry has seen a lot of positive change in the last few years, people speaking out, less shaming, more open and honest conversations. There are some amazing women doing great things for the industry in exposing bad behaviour and making people take responsibility, one of those figures recently being FKA Twigs, in everything she is doing surrounding domestic violence. Which is so important and brave. We are collectively understanding that it is not about these perpetrators owning up to their wrong doings but an active movement of simply doing better and stopping victim shaming.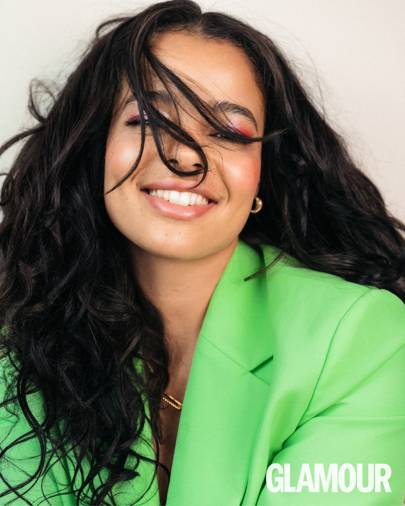 In terms of sexism, I have experienced more in everyday life than I have in the industry and at work. But personally, I have tried not to hang on to any instances of sexism – I think it's societal norms or expectations that I try and run away from. At the moment seeing all the press towards Meghan Markle, and how some parts of the media is portraying her; the whole Meghan versus Prince Andrew, it shows just how much more work we still have to do with sexism. It just so happens that Meghan is a Black woman who is going through all this, and Andrew who is a white privileged man, he is not given the same kind of treatment.
I will not engage in sexism and will speak up if I ever felt discriminated against, and I would actively advise and speak up if I saw it occurring in my presence.
What is your hope for women in the entertainment industry – and in general – in the next 20 years?
That we continue to smash it, on the big and small screens, on stage, online, on the radio etc. I long for inclusivity on all mediums and to see society accurately depicted in storytelling. Representation is the key for young people to see growing up and it's vital in everyone's formative years to be able to connect to characters and feel included, heard and seen. That is my job as an actor.
It's A Sin has created gamechanging conversations. What has been the best reaction you have seen and what lasting impact do you hope the show will have?

Hearing stories of people going home and addressing their HIV status, where they previously felt uncomfortable doing so. This makes me feel so happy and proud of these people. It's such a brave thing to do and we need to normalise these conversations so people never have to go through that, and abolish all shame, prejudice and negativity surrounding HIV/Aids.
"Allyship is showing up, speaking up for what's right, putting kindness, love and compassion first… Allies are the main source of change, so we need to be that change."
As a true ally, how do you define allyship?

Showing up, speaking up for what's right, putting kindness, love and compassion first. Being a good listener and using your privilege and voice to benefit people who do not have such privilege. Allies are the main source of change, so we need to be that change.
How represented did you feel growing up – especially on screen?
Overall, I felt quite underrepresented, I remember seeing Black women with lighter complexion like myself on screen every so often, mainly from a US perspective and I really enjoyed seeing it when I did – but it wasn't frequent enough for it to be classed as 'normal' in my household.
Do you feel like you have become the representation you needed when you were younger and how much would 'younger you' have benefited from seeing you on screen?
Yes, I have become the representation I needed. Not just from my image, but being a woman playing a range of complex characters with a full spectrum of emotion. I understand its importance and that I have a responsibility to be that representation to young people today.
I would like to note, that I realise that I am privileged being mixed race, with a lighter complexion and it's important to highlight that dark-skinned Black women are some of the most underrepresented historically and we need to work on having Black women in leading roles, telling all sorts of narratives and stories, not simply from the white gaze.
You can rewatch the first-ever virtual GLAMOUR Women of the Year Awards and discover all our amazing winners here.