There are gamechanging actors and then there is Priyanka Chopra Jonas. Having starred in more than 70 movies, Priyanka is one of the only actors on the planet to have made the tricky transition from Bollywood to Hollywood, while using her 60-million-strong Instagram platform to raise awareness of the rights of young women across the world. Here, the winner of our Women of The Year 2021 Gamechanging Actor award opens up about refusing to be held back by society's glass ceiling…
As I dial via Zoom into the London home of Priyanka Chopra-Jonas, I am greeted with that knowing smile. As a second generation British-Indian woman, I've exchanged that very same smile with the grandmother who passes me on the street in her salwar kameez, the few South Asian colleagues I've ever had in my career or the young girls huddled at a bus stop. Often, it's less of a smile and more of a feeling like the heart emojis I'm sent after failed dosa-making attempts on social media (why are they so difficult?). And when that exchange occurs it makes you feel seen, supported and says: 'I get you.'
Priyanka greets me bundled up in a cream and black jumper and immediately asks, "How are you Anitha?" pronouncing my name the way my cousins do back in India. As we talk about our families it becomes apparent that despite a Bollywood meets Hollywood fairy-tale, things haven't always been straightforward for Priyanka.
The 38-year-old is currently staying in London (home for her is usually Mumbai or LA) to film a new romantic drama called Text For You, starring alongside Sam Heughan and Celine Dion as well as a new Amazon Studios TV series called Citadel. As it's snowing outside, I make a painfully British quip about how she's finding the weather here: 'I'm OK," she laughs. "This fire is keeping me warm," referring to the too-large fireplace roaring just behind her.
Priyanka Chopra has been a household name in India since the early 2000s, since she won several beauty pageants as a teen, including Miss World. This opened the door to Bollywood where she rapidly rose to become one of the industry's most high-profile actors.
In 2015, she moved into Hollywood and soon became a hit with shows such as Quantico, and movies Baywatch and Isn't It Romantic. She also has a role in the upcoming Matrix 4.
But she's done all of this alongside working on a music career that has seen her collaborate with Will.i.am and Pitbull, and launching her haircare line Anomaly. The brand's packaging is made out of 100% recycled trash from oceans and landfills, it is genderless and as Priyanka puts it, 'the whole line is just $6 [each] and it's eight products – so it's good for the wallet and the environment!'
"You're never going to be completely confident and a warrior at every given moment – it's not required either."
All this adds up to a very impressive CV. Did she always just have an enviable amount of confidence in herself and her abilities, I wonder? "No girl, are you kidding?" she exclaims. "I'm the other side of 35 right now, having lived through all of that and I still wake up some days and I'm like, 'Oh, I feel like sh*t or I don't look great or I don't feel confident or I'm feeling vulnerable.' You're never going to be completely confident and a warrior at every given moment – it's not required either. It's good to talk about those vulnerabilities and insecurities, because then it takes away the power. But otherwise, I think confidence is just something that you keep in your back pocket for when you need it."
Priyanka's early experiences moving from India to the US at the age of 12 (she's previously been candid about the racism she experienced growing up) also seem to have helped prepare her for the journey ahead: "For every kid, high school is tough." she says. "I think bullying or abuse of power is something all of us have definitely experienced at some point in our lives. Bullying is a form of cowardice and it comes from projected fears that the bully feels."
She is candid about the impact this has had on her. "When I was younger, it was definitely a lot tougher and it [the bullying] defined me for a while and picked at my self-esteem. But as I grew older, I worked so much on who I am and feeling comfortable in what I bring to the table and my insecurity started fading away. I think the best way of dealing with it is knowing that it's not your fault. When we're under the burden of our emotions, we feel like the world's going to end and you'll never come out of it. If I could go back in time I would just hold myself, give myself a hug. I would tell my younger self 'It'll be OK.'"
Priyanka has gleaned much of this wisdom from working in two hugely demanding film industries, and everything that comes with that, from the intense press scrutiny to the extreme fan worship – her parents even had to place bars on the windows after she won Miss World. And she has decided now is the right time to chart that incredible journey in her memoir Unfinished, most of which she wrote during lockdown last year. "Being home was a very unusual thing, I don't think I've been in one place for six months for at least 25 years.
"I allowed myself to pat myself on the back for having been through my mountains and valleys and to come out standing upright."
"When I read the finished manuscript for the first time, I realised how therapeutic and healing it actually was," she continues. "It helped me navigate things that I hadn't thought of or hadn't dealt with. And it just felt lighter. I also allowed myself to pat myself on the back – which doesn't happen very often – for having been through my mountains and valleys and to come out standing upright."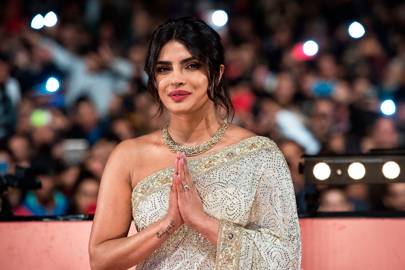 One of those mountains for Priyanka was understanding the importance of personal evolution and owning your individual journey. "We need to be authentic and true to ourselves in the now, forgive ourselves for what we may have thought and allow ourselves to evolve," she tells me.
"It's really important to stay on the right side of being a good person, instead of trying to find something, like your voice, which is always going to change. We're always looking for our own voice, but we're never going to really find that 'one voice' because two days later you're going to change again. I think it's allowing yourself to be free of the boxes that define what your voice should be… I've been blessed with having a platform and I take that responsibility seriously – I always try to use it in the best possible way so that it is used for good. We're the sum of our choices, we are the journey."
Part of that journey has been Priyanka's philanthropic work. She was appointed Unicef Goodwill Ambassador in 2016 and early in her career she started her eponymous foundation – to which she donates 10% of all her earnings – to support disadvantaged children in India. So, does she see herself as an activist? "I think activism is about being active in something that you believe in, right? That is my definition of an activist and it can be different for various people," she replies. "I definitely do see myself as an activist within using my voice as a woman, using my voice as a public person or using my voice as an entertainer, an actor and a producer."
That producing and activism she mentions come together to critical acclaim in the new Netflix film, The White Tiger. The film – a satirical rags to riches story about a driver of a wealthy family who escapes poverty – touches on the caste system in India, the rise of the 'underdog' and has a really strong, but complex, sense of morality.
But did she pick the project (on which she's also an executive producer) for its activist stance? "I read The White Tiger in 2008 when it had just come out, was a Man Booker prize winning novel, and a New York Times bestseller," she says. "I remember the characters in the story jumped out at me, it was so alive, and it made me think and feel so much. But at the same time, it was a story, it was funny, it was sarcastic. That's the kind of entertainment I want to be around and it should be able to create change by provoking ideas and conversation. We can't change laws, we can't change people, but because it's such a powerful medium, we have the ability to change people's minds and create a conversation."
"It gives me so much joy to see The White Tiger being No.1 around the world on Netflix, with a full Indian star cast, Indian writer and an Indian director. It's gamechanging."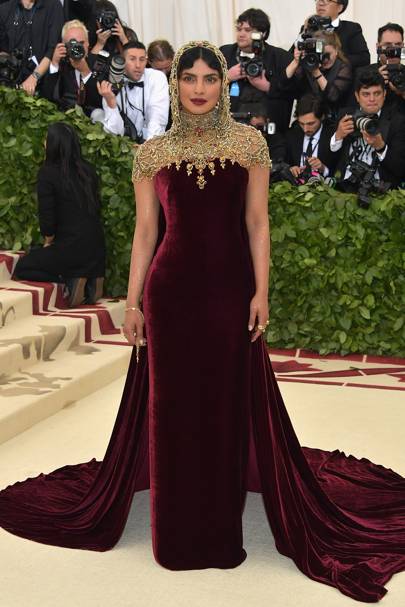 Priyanka also had a more strategic reason for getting involved in The White Tiger, too. "Movies with an all-Indian star cast or stories around India usually end up becoming 'genre movies' or independent movies," she says. "To me, this material was mainstream, it deserved the attention of the world like mainstream entertainment. But in Hollywood and mainstream entertainment, seeing leading actors that are South Asian is so rare. We're seeing a few like Mindy [Kaling], Aziz [Ansari], Riz [Ahmed], me, Kumail [Nanjiani], but there's just a handful. That was a big reason why I wanted to really offer my services as a producer on this movie. I wanted to be able to push it and promote it so that it has as many eyeballs on it as it could. It gives me so much joy to see it being number one around the world on Netflix, with a full Indian star cast, Indian writer and an Indian director. It's gamechanging."
Unfortunately, despite The White Tiger's success, minorities are still stereotyped in mainstream media roles. Does she think that's changing? "There definitely is a stereotype of 'what kind of box' do you put a particular person in," she answers. "It's a fight to change that box. It's really wonderful to see so many South Asian women specifically coming into the fore. It's really important for us to remind ourselves that we have the ability to not be boxed down by the glass ceilings that have been created for us by society and culturally. I lived in the US and I lived in India as a child. You shouldn't be defined by where you come from, your culture should be your asset, and I just take the best from both countries because every culture has their own problems."
For Priyanka, learning life's lessons has happened in the very public eye, as have the successes and failures that comes along for the ride. "Every single thing that I put out there is made for critique," she says. "You consume it, in two minutes you decide whether you like it or you don't like it, and I've spent a year trying to make it, but I made peace with that a long time ago. What I have become better at now is picking myself up after failure. I think it's really crucial to be able to not let failure define you and always have an eye on what the next thing is. That doesn't mean you shouldn't feel it – I feel really crappy and will sit and eat junk food or have a glass or a bottle of wine depending on the nature of the failure. But then you pick up, wear your big girl pants and move on."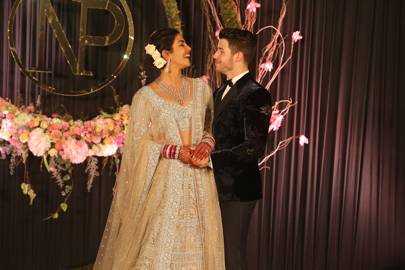 Another means of comfort she's found for when things get tough is her husband – pop star, actor and songwriter Nick Jonas, whom she married in 2018 in India with a week of celebrations reportedly costing $500,000. "My parents were both doctors and they always said it was so great to be married to someone in the same profession, because they understood the hours and they understood the life," she smiles. "I feel really grateful that I'm married to someone in the same profession who understands the requirements that my job has, and also understands the creativity of it."
With such a supporting partner as her team mate, Priyanka has refused to bow to the conventional pressures society places on women. "I was very blessed to have been raised in a family where those expectations of marriage and children weren't put on me. The only expectation that was made of me was to be financially independent," she says. "My mum told me when I was very young, 'No matter whose daughter you are or whose wife you will be, you will stand on your own feet and be financially independent.' I remember hearing that from when I was eight years old. That was my only expectation, to stand on my feet, have dreams, have an opinion and live life on my terms."
As our time wraps up, I ask Priyanka for the gamechanging piece of wisdom she's learned most recently: "I have just heard this quote and it's called 'turn and pull'. So, every time you reach somewhere you turn back and pull up the other person behind you. I feel like that's the kind of sisterhood that we should strive for and create. Every time you reach a place where you're stable, turn around and pull another woman up." Undeniably, these are words to live by.
Unfinished is available now (Michael Joseph, £20)
Watch the first virtual GLAMOUR Women of the Year Awards on Thursday 11 March at 7pm.