Fans of Downton Abbey might be in for a treat – it looks as if plans for a film sequel are beginning to materialise beyond more than just rumours.
(Warning: Spoilers for the first Downton Abbey film below.)
When the TV period drama aired its very last episode on Christmas day in 2015, fans believed it was the last time they'd get their Crawley family fix.
However, in 2019, the first Downton Abbey film emerged, set in 1927, with almost all of the original cast returning for its big-screen debut which raked in a whopping £152 million upon release, with a plot that involved a very special royal visit to the stately home and the upstairs-downstairs drama that followed.
So, what exactly is in store for Downton Abbey 2 and when will it be released? Here's what we know so far
Is there really going to be a Downton Abbey sequel?
Back in 2019, Downton producer told The Hollywood Reporter, "We're working on what the story is, and when we might be able to make it. But it's the same as the first time around: We have to try to get everyone back together again. And that was very challenging." He added, "The challenge will be, is everyone available at the same time? Can we make deals with them? That will be the challenge."
A year later, in September 2020, actor Jim Carter who plays Carson, appeared on This Morning to chat about the show's 10th anniversary and revealed that the sequel had already been written. He said, "If you promise not to tell anyone, I'll let you know that we've seen a script…The script for a second film is there. We've seen it, it's very funny!" The star added, "It's got all the same characters in, all the regular characters, and I think the will is – COVID willing – we'll film it next year."
In February 2021, Hugh Bonneville (aka Lord Grantham) told the Zoe Ball Breakfast Show that they were hoping to start filming after the Covid vaccine roll-out. "Here's the deal, if everybody who is offered a vaccine takes a vaccine, we can make a movie, we will make a movie," He continued, "It's the usual thing. The planets are circling. They are beginning to get into alignment. There is a thing called coronavirus knocking around and until that is under control in a sensible way, we are not going to be able to get all those ducks in a row. Mixing my metaphors here. But there is certainly the intention to do it."
Binge-watched Bridgerton? These are the best period dramas on Netflix that are perfect for a spot of escapism
He later added, "We are desperate to do it. It's the sort of pleasurable release of a movie like the first one that audiences would enjoy after all of this mess we have been through."
The Downton Abbey 2 plot
The scripts may well have been written but creator Julian Fellowes hasn't let slip on the kind of plot we can expect from the Downton Abbey sequel yet.
Towards the end of the first film, The Dowager Countess (Violet Crawley played by Dame Maggie Smith) told her granddaughter (Lady Mary Crawley played by Michelle Dockery) that she was on death's door, "I'm leaving the family and the place that I treasure in talented hands."
We'd expect this to be played out in the second film. Fellowes said in an interview with Empire, "We should remember that at the end of the film, Maggie was by no means dead," he said. "You imagine Violet is on her way out, but that decision hasn't been reached."
The Downton Abbey 2 release date
While we might not have a confirmed release date for Downton Abbey 2, there's big speculation that the film sequel is going into production this summer. A source recently reported to The Mirror, "Everyone is hoping the June 21 date for the end of the pandemic holds. The crew dates are being fixed and the team are going into prep for a summer shoot" adding, "The plan is to turn it around quickly and release the film as a festive treat in December."
Everything you need to know about House of Gucci after Lady Gaga shares the first photo from the set
The Downton Abbey 2 cast
Downton Abbey's main cast including Michelle Dockery, Matthew Goode, Laura Carmichael, Elizabeth McGovern and Hugh Bonneville are expected to return for the second film. While there were reports that Dame Maggie Smith wouldn't reprise her role as the Dowager Countess, it looks as if she might make one last appearance.
The Daily Mail said it would be her "last hurrah" and that she would star alongside French actress Nathalie Baye who will play "an old friend of Violet's who comes to visit her."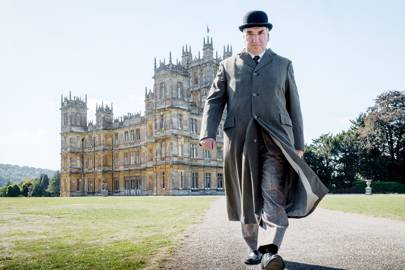 The Downton Abbey 2 trailer
Since production hasn't yet started, you'll have to wait a little longer for a trailer.
We'll keep you updated when we know more about this high-anticipated sequel!