While a lot of focus has been on the struggle faced by high street fashion brands during the pandemic, their designer counterparts have by no means been immune to the challenge of these circumstances.
Not only impacted by declining sales in most cases, high-end fashion labels have also been forced to rethink their entire strategy as the biannual showcase put on by a huge number of them during global fashion weeks which – amongst other benefits – serve as a wildly successful marketing tool have, of course, been halted.
As London Fashion Week prepares for another digital season, these are the British brands worth discovering and supporting
Instead taking to digital platforms to deliver their seasonal collections and portray new directions and focusses for their labels, this week it falls to the brands' more exclusive, luxurious sectors to showcase their latest offering during Haute Couture Fashion Week. No mean feat during a time in which money is tight and events are scarce.
In essence, for the majority of us who aren't ordering custom one-off gowns from designer fashion houses, couture fashion is about delivering a fantasy and capturing a mood, and Dior's Spring/Summer 2021 Haute Couture showcase certainly did that.
Shot in the 17th century Tuscan castle of Sammezzano, the short film entitled 'Le Château du Tarot' explored the world of tarot cards; a nod to the founder Christian Dior himself who was thought to be highly superstitious. Maria Grazia Chiuri shares this connection with imaginary worlds, and acknowledges that in these uncertain times, many of us are marked by "a palpable desire to reconnect with the world's soul."
The film opens with a clairvoyant inviting a young girl sitting at her table to pick a card, before she's lead on a voyage of self-discovery to the heart of the castle through meetings with various characters – The High Priestess, The Empress, Justice, and The Fool, to name just a few – who question and disorient her, inviting the viewer to look at the world from a new perspective.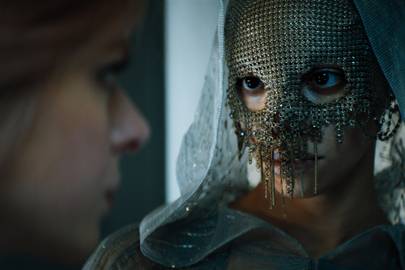 Of course, the story is merely the setting in which to showcase Chiuri's latest collection. Inspired by a 15th century tarot deck that once belonged to the Duke of Milan, each tarot's character is represented via a different look with the gold, enamel, and geometric interlacing of the cards being mirrored throughout the various exquisite pieces.
"I know that everybody's obsessed with this crisis to be simple, to be more basic and functional," Chiuri told WWD, "But couture is about uniqueness, craftsmanship and tradition, and if we don't do that in couture, I think it's really sad for the future of these traditions, because the risk is that we lose them."
"We have to be careful about what we do, but at the same time, we have to believe in creativity."
WATCH DIOR HAUTE COUTURE SS21:
DIOR HAUTE COUTURE SPRING SUMMER 2021 COLLECTION IN FULL: