Diane Abbott has been a staple figure in British politics for over three decades, becoming the first Black woman to ever be elected into British Parliament, in 1987. She is now the longest-serving Black MP, serving Hackney North and Stoke Newington since she was first elected. Throughout this time, she has been subjected to racist and sexist abuse, thrown at her from every angle; from within her own party, from the opposition party, the media, the public, and more recently, from online trolls.
And despite this, or more accurately, in spite of this, she's persisted – staying strong in her beliefs and working within her community and party to 'give a voice to those who might otherwise not have one'. And soon she'll be sharing her experiences in a book, as it's just been announced by Penguin that they will be publishing her memoir, A Woman Like Me, in 2022.
I've watched her career closely. As a Hackney-born resident, she's been the only MP I've ever voted for. There's always been a disconnect for me, seeing how well regarded she is in my community and the positive influence her relentless campaigning has had on the lives of ethnic minorities and immigrants locally. Every time she's been reelected it's been a landslide win, like in 2017 where she gained 70.3% of the votes. Yet, in the press and in public life, she's been belittled, vilified, and bullied. The reason, I feel, is clear, but uncomfortable for many to swallow – it's because she's Black and a woman. It's a conversation that's come to the forefront of Britain's minds this week, with the Meghan Markle and Prince Harry Oprah interview – which Diane spoke about on BBC Radio 4's Today Programme:'They clearly very soon did not welcome a mixed-race woman marrying into the Royal Family.'
As one of the most trolled politicians of the current day (Amnesty International[/link] studied the Twitter mentions of 177 women MPs in the six weeks leading up to the 2017 election. Almost half of all abusive tweets, 45%, were aimed at Abbott), Meghan's experience of severe trolling is something she can surely relate to. In Abbotts case, the study found that the tweets were racial and gendered in nature. This tirade of abuse, which is out of proportion and not relative to any other politician, it could be argued, has clouded her reputation and good work – it seems people want her to fail, constantly trying to trip her up and undermine her voice.
White male politicians, like Dominic Cummings and Boris Johnson, are routinely protected by their privilege when they blunder or make mistakes, a gross double standard; yet Diane is ripped apart for drinking an M&S cocktail can on the tube, for once wearing mismatched shoes, for the now-infamous LBC radio interview in which she could not say how much it would cost to employ 10,000 police officers.
As a public servant, it's part and parcel to face criticism and be held to a high stand. Of course, no politician should be drinking alcohol on public transport, and she should have known how much Labour's policy to add 10,000 more police officers would cost, any politician would be pulled up for these things – but it's the extent to which the mistakes she's made are used to chastise her that is troubling.
Whereas our Prime Minister has compared women wearing burqas and niqabs to letterboxes, set an unprecedented record by losing a parliamentary seat in just his first 11 days as PM, and in early October 2020 he got his own lockdown rules wrong. I could go on, there are dozens and dozens of examples. When I sat down to speak with Abbott (via Zoom), I was keen to not fall into the cycle of reporting that portrays her as a caricature. I wanted to know more about her as a person behind the headlines, and what her hopes are for the near future.
Abbott was born in 1953 to Julia (a nurse) and Reginald (a welder) Abbott, who were from rural Jamaica, but had come to Britain as part of the Windrush generation – she grew up in Harrow, after passing the 11-plus she became the only Black pupil at Harrow County Grammar School for Girls. From there, she got a place in Newnham College to study History, at Cambridge University. This is where she was first inspired to enter politics, telling me "I was very struck by the gap between the lives of my family, and the lives of all those posh White girls that I was at Newnham College with. One thing Cambridge gave to me was a very strong sense of unfairness and inequality, and a passion for social justice. This passion has been one of the biggest themes of my life."
After university, she started off as a graduate trainee with the Home Office. Outside work, she was active in various campaigns like the Organisation of Women of African and Asian Descent (OWAAD), and in protesting the Sus law (Sus was the earlier version of stop and search). "One thing I noticed was that when we went to lobby MPs, all the MPs were white. I don't think it had dawned on me before that every single member of parliament at that time was white. It was striking because the MPs we were lobbying represented very multicultural and diverse areas. Some of us started to think, 'Why haven't you got any diversity?' When we raised it in the Labour party, we were told no one was putting themselves forward. So I put myself forward."
What response did she get? "No one thought I could win. They'd never seen a Black woman as a member of parliament. So just winning was amazing – my mum was there, standing next to me." However, stepping into parliament for the first time was less joyous: "I was a London MP, and I was friends with some of the new London MPs like Bernie Grant, Jeremy Corbyn, and Ken Livingstone. In the wider Labour Party, I didn't necessarily meet great enthusiasm because they thought we were all 'London loony leftists', and they wanted to keep us at arm's length." Getting in as an MP was a massive strive forward and a hurdle to overcome. But it still took Diane three decades before finally being offered a key leadership role as Shadow Home Secretary, by Jeremy Corbyn in 2017. For her, it felt momentous: "As far as New Labour was concerned, I was a complete non-person. They never offered me any sort of role, certainly not a junior minister. Sometimes being a non-person was hurtful. I was never invited to events, even to the 2007 celebration of 200 years since slavery was abolished. It was (Blair's) Labour government and I was completely frozen out. There weren't many Black MPs, it must have been a conscious decision to not invite me. When Jeremy became leader and offered me a position on the front bench, it was transformative for me."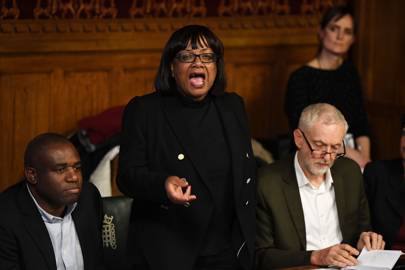 Though while she was finally accepted by her own party, the external hatred amplified externally. It's exhausting to watch, I can't even imagine how exhausting it is to live. How has she protected her mental health? "It has been incredibly stressful. Sometimes people say, 'Oh, you must have a very thick skin.' I don't have a thick skin, nobody wants to see that sort of abuse online. When I first became an MP, I know there was as much racism and misogyny around, but if you wanted to abuse an MP in 1987, you had to write a letter, put it in an envelope, put a stamp on the envelope, and put it in the letterbox. And that limited the physical amount of abuse people could send to you.
But with the onset of social media, and in particular anonymity, suddenly from maybe one letter a week, you would have hundreds and hundreds of emails, Facebook comments, Twitter mentions." It's not that the presence of misogynoir in society has increased, but that now it's harder to escape. "The ubiquity of online, and the ease of abusing people is the new problem. I notice that people will say things online that they would never say to your face. They would never stop you in the street and abuse you in that way." She says that one of her smaller campaigns at the moment is to try and limit anonymity online: "If you do post something which is, well, contrary to the law, because it's racially abusive or abusive in gender terms, you should be able to be tracked down. Because when the police have tried to track down some of the more gross and violent types of abuse I've had in the past, they can't, because everyone is anonymous."
Diane has started to limit her exposure to online abuse by only allowing people she follows to reply on Twitter, and will try not to look at anything that's threatening her life, or her family's lives. But of course, she's aware it's there. "You cannot be active online, and I am, without seeing some of it. I've had to remind myself that the person that they are abusing is a figment of their fevered imagination. They don't know me, I'm just someone that they've turned into a hate figure. That helps, to put a distance between your real self and the person that people are abusing, because they don't really know you."
Can she see how this would deter other good female and diverse candidates from coming forward? What advice would she give someone considering a career as an MP? "It's no good complaining about MPs, as people often do. If you want a better class of MP, you need to consider running yourself – and that includes Black people, and that includes women. Secondly, it's important to know what you care about because only caring passionately about things will give you resilience." And thirdly? "Cherish your non-MP friends. Cherish the people who are even not necessarily activists. Clearly, I don't have any friends who are Tories exactly" she laughs, "but really cherish your friends who are outside the Westminster bubble."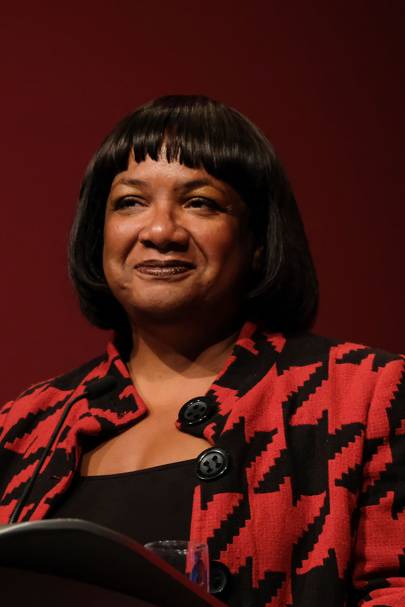 I am keen to ask her about the firestorm that engulfed the Labour party last year regarding antisemitism and Jeremy Corbyn. In October of 2020, the Equality and Human Rights Commission investigated antisemitism within the Labour Party – which led to the party's former leader Jeremy Corbyn being suspended. He was reinstated in December as a party member, but the current leader Keir Starmer did not reinstate him as the whip.
Has Diane ever witnessed anti-Semitism in the Labour party? "I've personally never witnessed anti-Semitism. Hackney is historically a very strong area of Jewish settlement, going back to the beginning of the century, and so I don't think that Hackney would support a party where anti-Semitism could take root, because so many of our members and supporters are Jewish. With the report, I think everyone is agreeing, Jeremy is agreeing, that we just have to get on and implement the recommendations." This view, of course, doesn't quite take into account that the majority of Jewish people in the country felt they couldn't support Labour in the last election and the reasons why.
Does Diane think Jeremy should be given the whip back? In short, yes. "There was no notice. Keir Starmer didn't really consult with anybody. We don't know how Jeremy can get the whip back. It's a complete absence of due process, and what a lot of MPs are saying is if Keir Starmer can do that to Jeremy, he can do that to anyone, because there's no system, there's no process. It's just Keir Starmer saying, 'I'm going to remove the whip from you and you will no longer be a Labour MP'".
Abbott knows, maybe more than any other MP, that there's still a lot to do around institutional racism, citing two main issues that Labour needs to focus on: "One is representation. Black and minority ethnic people are still underrepresented at all levels, whether it's people that actually come to party meetings, whether it's councilors, whether it's MPs, whether it's the staff at local party headquarters." She adds "there's also a lot to do about policy, what I think is important, is to integrate a concern for racial justice in all of our policymaking. For instance, Black and minority ethnic people are more likely to be on zero-hours contracts. There's a longstanding issue about Black boys being more likely to be excluded. So it's about making the concern for racial justice mainstream for all our policy making."
Looking to the future, Diane tells me "We are getting there. There are now 40-odd Black MPs." Does she think the UK is ready for a Black or ethnic minority Prime Minister? "Sometimes things move extraordinarily fast. So you never know, maybe Black Lives Matter has accelerated the progress. The talent is there, there's no question about that, I mean, look at Boris Johnson. There are plenty of people, of whatever colour, or whatever gender, who would make as good a prime minister as Boris Johnson."