Image Source: Getty / Amy Sussman
Dan Levy isn't just starting off 2021 with a bang, he's starting it off with a handful of firsts some would only dream of. Between hosting Saturday Night Live for the first time and starring in his first-ever Super Bowl commercial courtesy of M&M's, things are only looking up for the 37-year-old Canadian. "The incredible thing about doing this spot for M&M's and hosting Saturday Night Live in early February is that I don't need to worry about topping that," Levy told POPSUGAR. "That's a pretty high point in anyone's overall career, let alone the start to a year. So, I'm just going to be kind to myself after all of this. And hopefully, soak up those moments and let them sink in."
When he got "the call" from SNL, he almost couldn't believe it. "It's really special. To be involved in two really important cultural moments in pop culture, it's a dream come true," he shared. "For it to be back-to-back, as a Canadian, I would say, 'Sorry for hogging the whole weekend.' It feels like an out-of-body experience to hear you even say [the Super Bowl ad and SNL] coupled together. So for me, it's just about having fun with it, and really trying to take time to enjoy it."
As a self-proclaimed perfectionist with the title of Schitt's Creek showrunner under his belt, the M&M's commercial offered him a rare experience. "I had absolutely no notes, and as a perfectionist who ran my own TV show, generally I have a note or two," he added. "On the day that we shot, I was given a little bit of room to ad-lib, which was fun. But it really all clicked into place from the very beginning. So for me, it feels very destined." If the M&M's commercial feels destined, hosting SNL must be kismet, given his family's background in sketch comedy; his dad, Eugene Levy, is an alumnus of both the Toronto chapter of the Second City improv group and the sketch comedy series Second City Television.
At the time of our interview, Levy had yet to actually ask his dad for advice. However, that's not to say he counted him out entirely. "I want to say that just genetically, I feel like his expertise will be coursing through my veins on that night and I'm sure that I'll connect with him before I do it," he explained. "I grew up immersed in sketch comedy, and I've been very lucky to have so many incredible comedic voices as part of my world growing up. So, I hope that their experiences and their gifts can rub off on me. At the same time, I do hope that I find a path through it all that feels uniquely my own as well."
"I hope that their experiences and their gifts can rub off on me. At the same time, I do hope that I find a path through it all that feels uniquely my own as well."
"I've long admired so many of the cast members, so I'm excited to meet them finally," he continued. Over the years, he's had the opportunity to connect with a few of them over social media, including Bowen Yang. "I think it's going to be a really fun week of collaborating with people and hopefully finding some really funny sketches to present to the world." From the looks of it, Levy has been enjoying his week at SNL so far, and we are more than ready for a Schitt's Creek spoof. Make it happen, folks!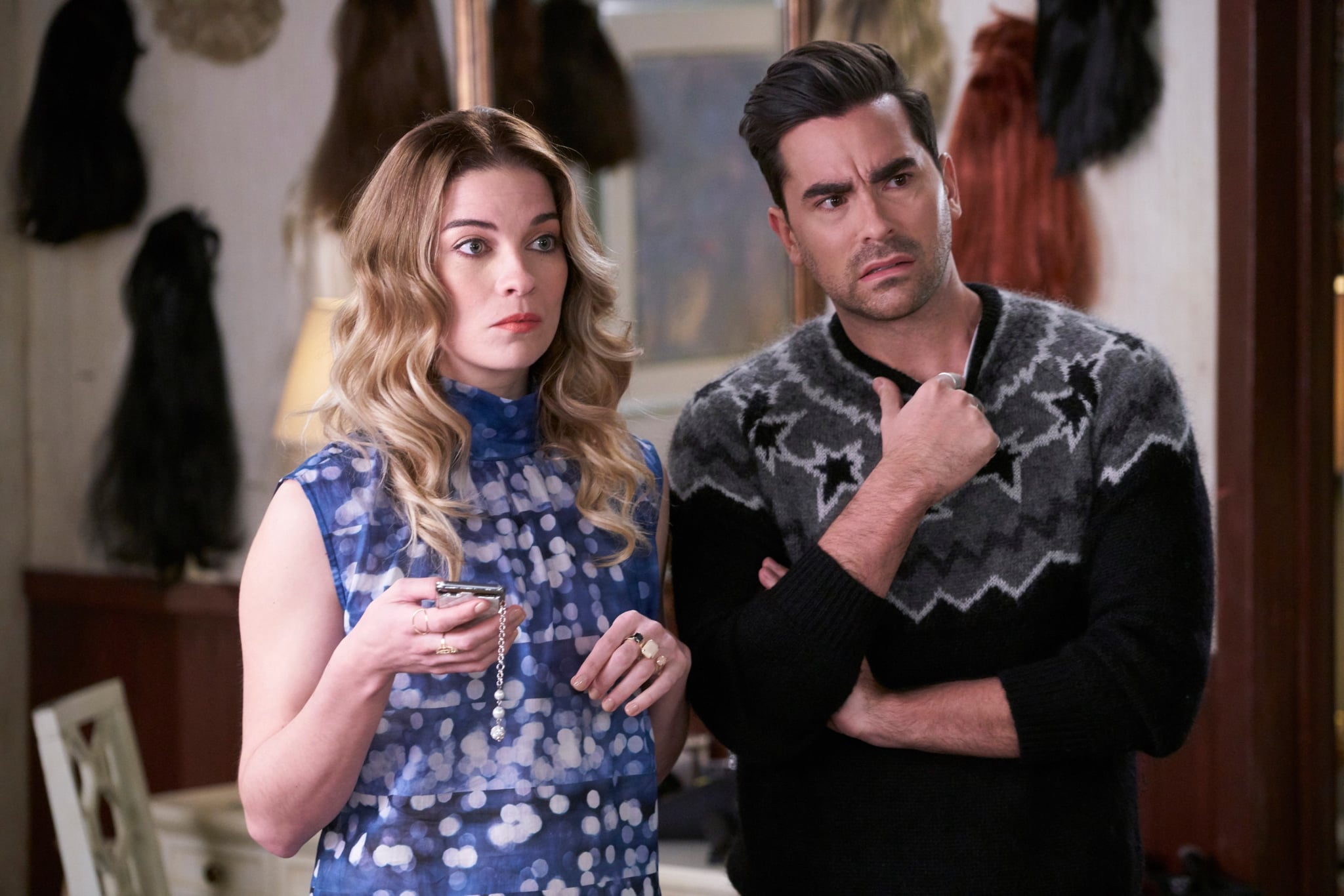 Image Source: Everett Collection
Speaking of Schitt's Creek, Levy is very aware of the surge of viewers the show got due to the pandemic and what the show has meant to audiences. "I feel like part of what drew people to the show was the fact that it essentially showed a group of people who were confined to a space and had to make the most of their situation," he disclosed. "I think there was a closeness that people found in the storytelling of Schitt's Creek, and the idea that you hopefully make some good out of a strange situation." As for how David and Alexis would be dealing with COVID-19, the short answer is not well. "I can't imagine the two of them faring very well," he said with a laugh. "I think they would have to be separated. I feel like at one point, David might be staying in a completely other room, if it's available. It would be a problem. To be perfectly honest, I think the whole family would have a real tough time with it."
Of course, Levy misses Schitt's Creek, which ended in April 2020. As for what he misses most, it's the people, naturally. "We really built a family, and not getting to see those people every day is tough. I miss them a lot," Levy revealed. "I Zoom with Noah [Reid] once a week. I talk to Annie [Murphy]. I talk to Emily [Hampshire]. I talk to Karen [Robinson]. I talk to basically everyone from our show. I think we just haven't come around to the fact that it's completely over, so we're all just keeping in very close contact." Although the pandemic has kept them physically apart, he still feels that they're in each other's lives in a very big way. "I do hope that we can find a way to do something in the future just so that we can bring everyone back together," he added. Whether that is a Schitt's Creek movie or merely a cast get-together is still to be seen.
"I think there was a closeness that people found in the storytelling of Schitt's Creek, and the idea that you hopefully make some good out of a strange situation."
"I just feel like I've done the best that I can possibly do. It is an absolute dream coming true," he shared on his excitement for 2021. "I feel like I'm not going to push myself to do any better than [SNL and a Super Bowl ad] at this point, because they're pretty incredible — especially for an actor to get to do what I've done is something I'm not taking for granted. I would say I've done [the dream projects], but I hope that I can continue to find some exciting roles to act in." And we can't wait to see what those roles are! But for Levy, anything else "would really just feel like icing on the cake."